The Lost Vikings
DOS game, 1993
Genre:

Year:

Developer:

Publisher:

Perspective:

Theme: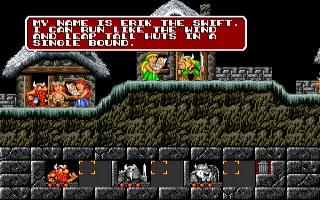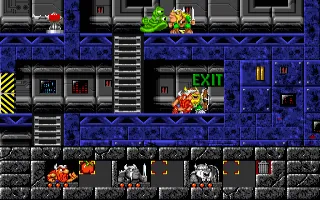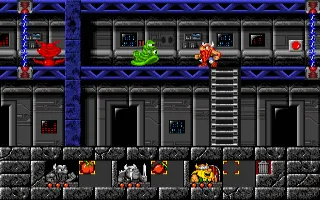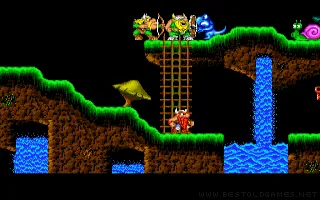 Lost Vikings. This two words should theoretically be enough as a review, because the name really says it all. But let's say it's not enough. So in an old times of Viking, there lived three friends: Erik, Olaf and Baelog. Well, these three guys have lived quite peacefully, until (and now wait for it...) alien ship kidnaped all of them. Yes a real alien ship kidnapped 3 Vikings, that's crazy, but at least it's original. The main boss on the ship was Tomator, classic villain, but Vikings were not afraid of him, so they escaped from prison and wanted to go home to their wives. But escape from the alien ship is not just as easy as pie, so you have to help these Vikings and navigate them through the ship and various obstacles. Each of the Vikings has specific characteristics that must be used in different situations. This is a great puzzle game, it's too bad there is no good continuation.
Game review
Lost vikings. This could theoretically suffice as a review, because the name really speaks for itself. But let's say it's not enough. So in the times of the cruel invasions of the Vikings on the poor of the inland (so long ago) those friends lived. Normally just friends. Still in the pub and stuff .... Yeah yemen? So: Erik, Olaf and Baelog. Well, these three guys lived quite well before (and now watch out for the kids) they were abducted by an alien ship. Yes, a real alien ship. The boss on the ship was a Tomator. Classic wandering. Just a negative. And the Vikings were not afraid of him, they escaped from prison and wanted a house for their wives (!).
Such an escape from an alien ship is not just that. Of course, you control the three speakers and your goal is to get them home safely. In order to be a real logic game, everyone must know something different and by combining these abilities they must get to the goal. And so it really is. Erik Rudovous can jump like a rubber band and his head is as hard as a diamond. Olaf wears a shield, a defender. However, the shield is suitable not only as a defense, but also as a step for Erik to jump higher. Well, Baelog is something like Bruce Willis, just tough. He can chop anyone with a sword or send him to eternal hunting grounds with an arrow. However, you can also press the secret buttons with the arrow, so there will also be some intelligence.
On the way from the ship you go through different worlds, sometimes the cabling itself is everywhere (like my computer) and sometimes it's green everywhere and different things grow there and different creatures live (like my computer). You don't have to kill them all, but then you have to run fast. Sometimes you even drop a bomb, so you can satisfy your pyrotechnic appetites. So that the game is not so dry (it is not, but you can still collect various foods and especially items that allow further progress. For example, the already mentioned bomb.
The game fixes amazing, the only thing you could complain about is the sound processing. It's not much. But at least it's quiet to play. And it doesn't take up disk space. But that doesn't mean the game is deprived of conversation, it just takes place in text. On the contrary, the cute graphics will captivate you. For example, the scene when someone dies is great. Whistle. Overall, there is nothing wrong with this game, it's a pity that there is no solid sequel. But on the other hand, the 3D Vikings on two CDs with movie trailers would probably lose their charm.
The Lost Vikings. That's enough, isn't it? :) 
Reviewed by

Anonym – 1. april 2014
User reviews
There are no reviews yet, be the first to review this game!