Yu-Gi-Oh!: Power of Chaos - Yugi the Destiny
Windows game, 2003
Genre:

Year:

Developer:

Publisher:

Perspective:

Theme: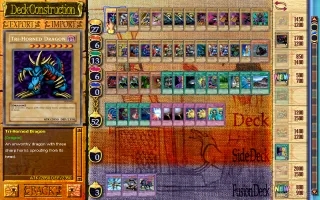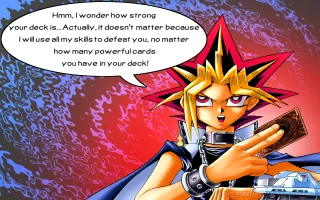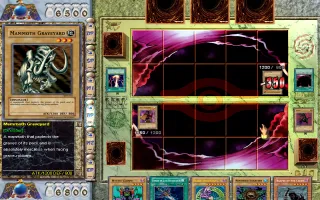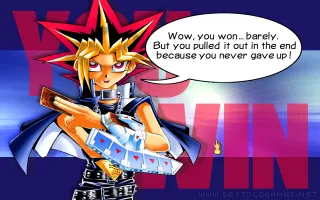 Yu-Gi-Oh! - A real Japanese legend has arrived. It was created by Kazuki Takahashi, who in 1996 released a manga about the adventures of boy Yugi (literally - "game"), who decided to reveal the secret of the mysterious ancient Egyptian artifact "Millennium Puzzle". Together with his friends, Yugi participates in card duels in the game "Duel Monsters". It differs from other entertainment in that "summoned" creatures appear directly during the match. Unfortunately, Yugi later realized that Duel Monsters were descendants of the Kingdom of Shadows, which had once nearly destroyed Earth.
Maestro Takahashi had no idea how popular his creation would be. Revenues from the sale of comics, cards and similar products in Japan alone exceeded $ 2 billion, and since 2001, "Yu-Gi-Oh!" Has become famous in America. Cartoons about the adventures of Yugi and his evil colleague Yami ("darkness") are broadcast on several TV channels at once, Mattel floods toy stores and food giant General Mills stamps the faces of the heroes on "quick breakfast" packages. Mania has extended to computer games, so we bring you a windows version of this famous card game.
Game review
No review yet. We are working very hard to write one for you.
You can help us by writing some cool user review for this game.
Comments
Below are the most recent comments. Discuss this game in our forum to see all of them.
Amazon needs no introduction – it's the behemoth of online retail, including books. With an extensive selection of titles, user reviews, and personalized recommendations, Amazon offers an unmatched variety. https://buylocalbooks.com/butte/
+27633809460 Magic ring | Wallet for money for Sale In Alberton Bedfordview Benoni Boksburg Brakpan Clayville Daveyton Devon
Money spells that work fast +27633809460— Magic Rings — Get out of debt Spell — Get Rich Fast — financial freedom money spells in Johannesburg Call Mama Lisa and Dr.habib +27633809460 OR whatsapp +27633809460 drhabibspells.com

Magic Rings — Get out of debt Spell — Get Rich Fast

You will be the main source of attraction in every field.. And so this powerful ring can do great wonders, some of the few examples that this wonder ring can do is: it will give you promotions in any field you want, always in examinations you will remember difficult answers, it will attract the opposite, who ever you want or wish will come to you, in business sky is the limit with this ring, any type of lotteries, pools, lotto's, bingo's etc will be won by you, you will be protected from black magic, evil powers, spirits etc so no body will be able to talk bad about you and where ever you go you will be the center of attraction with this wonder power ring. The moment this ring is worn its powers in contact with the fingers produces a gentle current of light electricity which quickly circulates throughout every part of the body, blood, veins, muscles and tissues, recharges the whole system with powers-refills the nerve cells and every organ and destroys diseases, germs and bestows new energy and power to the weak body. contact Call Mama Lisa and Dr.habib +27633809460 OR what's aap +27633809460 drhabibspells.comhttp://pritori.blogspot.com/
User reviews
Please register or log in to post a review.
YU-GI-OH Power of Chaos-YU-GI THE DESTINY
Reviewed by ketoacvedu – 28. october 2021
SINCE THE FIRST SERIES OF THE ANIMATION ADVENTURE, I WAS HOOKED TO THIS PUZZLE GAME. COULD'NT WAIT TO GET MY HANDS ON THE VARIOUS GAME SECTIONS. WELL I ACTUALLY LOST MY COPIES I HAD, THAT'S WHY I CAME SEARCHING. FOUND IT!!!
TRUELY HAPPY WITH THIS GAME, BIG FAN ALL THE WAY.