Pokémon Play It!
Windows game, 1999
Genre:

Year:

Developer:

Publisher:

Perspective:

Theme: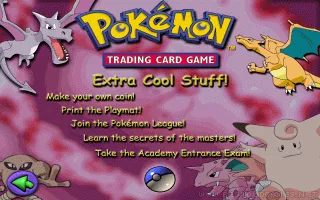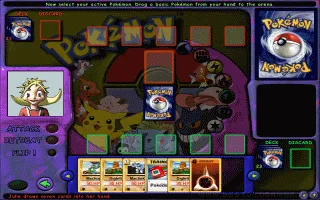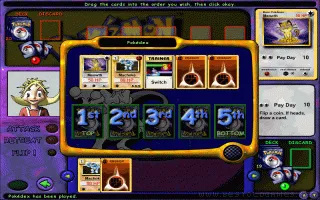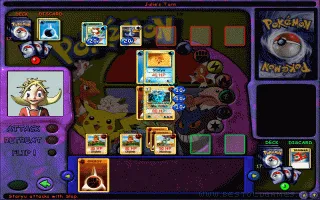 Pokémon Play It! is a simple game designed to introduce potential players to the Pokémon Trading Card Game.
At the beginning you have to go through several boring learning levels, where both the rules of playing against the PC are explained, as if it were actually played. These rounds are non-random, so it's just a matter of using the predefined cards in the correct order to win. It starts to be more fun only after completing these levels, when the cards are actually randomly generated. You can choose a deck here, or even create your own from all the existing cards. Card game owners can even create a database of cards they actually own here.
The main disadvantage is that there is no difficulty setting here. The artificial intelligence of the opponent is not so good - he does not even think a step forward, so it is not a problem to defeat him and soon you will start to miss a real opponent.
Game review
No review yet. We are working very hard to write one for you.
You can help us by writing some cool user review for this game.
Comments
Below are the most recent comments. Discuss this game in our forum to see all of them.
Are you a student searching for a statistics textbook solution manual?
Crazy for study is a one-stop destination for academic learning. We offer help with assignments, music textbook solution manuals, questions and answers, and expert guidance. CFS has a collection of fifty million textbook manual solutions. These are curriculum-based, which will help children. Connect with us; we are available 24*7!
Easy Grader aka Easy Grading Calculator is a brilliant tool for teachers who find it difficult to calculate grades. Not just that, you can find grade with an easy grader chart generated by our EZ grader can be used as a reference to assign grades instead of using the tool repeatedly.
Think about boat safety and plan your trip before you go. Knowledge and planning reduce the risks and increase the fun. Always tell someone where you'll be going, when you expect to be back, and what your boat looks like convertidor de fuentes. If you're leasing a boat, you should give your leasing agent this information. Also, ask the locals where it is safe and where the waters are dangerous.
After Infocom has been disbanded website, some of its developers and IT Agentur founded Legend Entertainment to build on its gaming portfolio. The first Legend games, which combine graphic and textual elements (you can already click on the image with the mouse), are a direct evolution of the purely textual adventures that Infocom made famous, and their later (and more famous) point and click adventures (Death gate, etc.) were again logically significantly affected by the user of models interface of this older generation of games.
I like Pokémon Legends: Arceus, anybody playing it?
User reviews
There are no reviews yet, be the first to review this game!