Pokémon Play It!
Windows hra, 1999
Žánr:

Rok:

Výrobce:

Distributor:

Perspektíva:

Téma: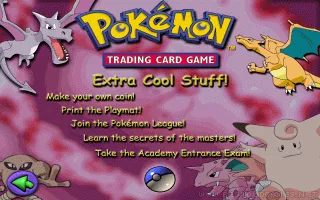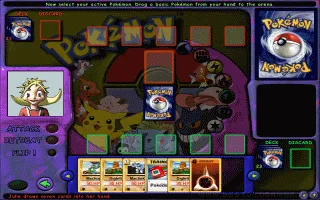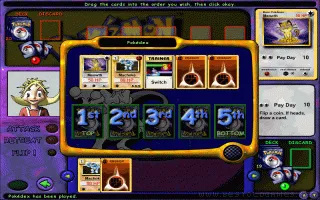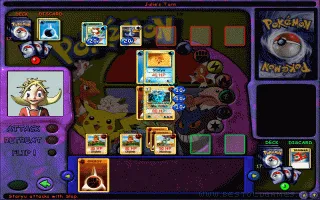 Pokémon Play It! je jednoduchá hra určená k seznámení potenciálních hráčů s karetní hrou Pokémon Trading Card Game.
Zezačátku musíte projít několik nudných výukových levelů, kde jsou vysvětlována jak pravidla hraní proti PC, tak jak by se hrálo ve skutečnosti. Tyto kola jsou nenáhodné, takže jde jen o to použít předem dané karty ve správném pořadí, abyste vyhráli. Zábavnější to začne být až po dohrání těchto levelů, kdy už se skutečně karty náhodně generují. Můžete si zde vybrat balíček, nebo si dokonce vytvořit svůj vlastní ze všech existujících karet. Vlastníci karetní hry si zde dokonce můžou udělat databázi karet, které v reálu vlastní.
Hlavní nevýhodou je, že zde nejde nijak nastavit obtížnost. Umělá inteligence protivníka není zas tak dobrá - nepřemýšlí ani o krok dopředu, takže ho není problém porazit a brzy vám začne chybět skutečný protivník.
Recenze hry
Není zde zatím žádná recenze! Pracujeme velmi tvrdě na tom, abychom přidali recenze ke každé hře. Můžete nám pomoci přidáním uživatelské recenze k této hře.
Uživatelské recenze
Nejsou zde zatím žádné recenze, buď první, kdo přidá recenzi na tuto hru!
Prosím, zaregistrujte se nebo se přihlašte na přidání recenze!
Extra
Žádné extra informace. Zatím!