Lemmings 3: All New World of Lemmings
DOS game, 1994
Genre:

Year:

Developer:

Publisher:

Perspective:

Theme: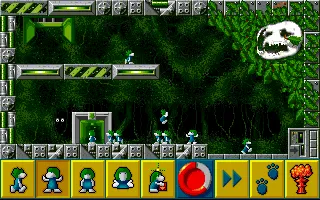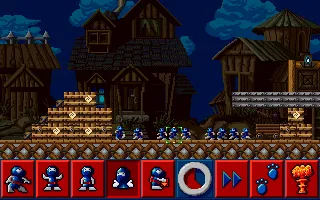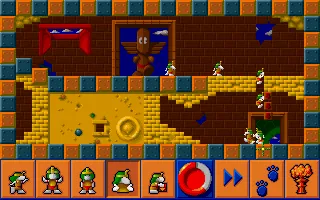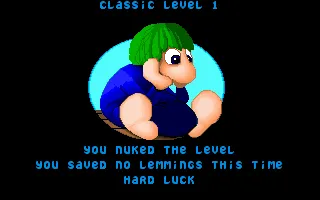 In terms of chronology, this is the third installment in the Lemmings series. Similar to the predecessor, the game focuses on the tribes but on the contrary not twelve but only three of them are present: egyptian, classic and shadow. Each of them has its own audio-visual theme. The game concept changed and instead of being given a number of actions to be performed in a specific moment, the lemmings collect the abilities on their way home. Each lemming can collect only one ability at a time and can put it away at any moment so another one can use it. What is more, each lemming has the ability to block the way, change walking direction or jump, and these can be used an unlimited number of times. There are in total 90 levels - 30 for each tribe with an option to save your progress.
Game review
Classic, classic, just a classic between logic games and computer games in general. Well, who wouldn't remember that little blue-green vermin with suicidal tendencies? It's been true for some time since this legend first shone on our monitors, but some games are simply not forgotten, and especially this one.
The principle is basically very simple: in a screen full of various platforms, columns, walls, depressions and terrain irregularities, a group of small leopard creatures spills out from above, those driven by mother nature (or whatever) try to get to the exit at all costs and then hurray out (if they knew that only the next level was waiting for them, they probably wouldn't be moving like that). Here, however, a problem arises, because lemurs, although cute, have completely lost their minds and thus with a woman right behind her nose, hitting the walls, or falling (word as whip) straight to death. Your task is to always transport a certain percentage of these unfortunates safely to the exit. The so-called tasking of lemurs will serve you well - that is, you click on a selected individual with the mouse and give him an order such as "break the wall", "build stairs", or "dig up", etc. These selected lemurs then fulfill their tasks and pave the way for freedom (or hell) for everyone else.
The amount and types of tasks you get to complete the mission vary, depending on the level you are at and also on the perversity of the authors, who have prepared dozens and dozens of levels of varying difficulty and quality for you.
As has already been said, the idea is simple but brilliant. Hatching the little poor in the interest of their own survival, and if you "cut yourself a little" then just watching the mass harakiri with horror is fun for long winter evenings and short work breaks.
Scottish DMA Design has not released many games in their careers, but virtually everything they created was really worth it (the Amigists may still remember a cut called Walker) in this case were again infallible and created a game that undoubtedly belongs to the gold fund. 
Reviewed by

Anonym – 1. april 2014
User reviews
There are no reviews yet, be the first to review this game!