Pushover
DOS game, 1992
Genre:

Year:

Developer:

Publisher:

Perspective:

Theme: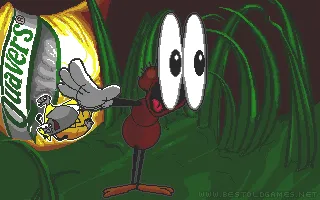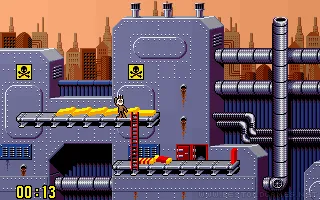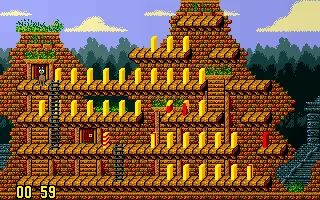 Everyone knows domino, but what about dominos and computer games? This sounds extremely boring. Yes, I thought so too, but it was only until I played a fantastic puzzle game Pushover. First things first. At the beginning you are introduced to a dog named Colin. He lost his potato chips quavers (game was sponsored by english company Smiths' British) in giant anthill and at that point it's your turn. Since Colin is a dog he won't fit into a anthill and since you are ant, logically, you must go find quavers. You find yourself on a platform and to advance to the next level, you have to build dominoes. But not boring dominoes, but dices are very diverse. Some explode, some are broken, some can build bridges for you, etc. Simply it's a puzzle game full of fun with Domino.
Game review
I was bitten by an ant, it was a nice monster. We had to find a village doctor ... Well, how was it? Well, I guess not ... What is Pushover about? An unusual story and an equally unusual game. the reason you're going to do this is Colin. Its a dog. And he lost something called Quavers. Let everyone find out for themselves ... Well, that's what you'll be looking for. The reason is simple again: Colin is a dog and you an ant, if I omit the law of the stronger one, you can't ask the dog to dig somewhere underground. Well, he did, it would be quite a joke. You will appear on different platforms and you have to build dominoes. When you succeed, you kick the first cube and pray that everything falls. When that happens you move on ... It happens a hundred times.
But don't expect that you will just build dominoes like little Jarda. It's not exactly a conventional domino. Gradually, vanishing, flying or even exploding cubes appear in the game. When you finally get to know everyone, it will start to combine beautifully, so that exactly in the hundredth level the appropriate level is reached. I don't know how many solutions to each problem, but there are definitely several. But there is only one thing. So beware, the fact that the game is called Pushover, so something like "cool, I'll squeeze it ..." doesn't mean it's really cool. Some levels I rearranged the dice so much that I had to play it from the beginning because I created an apparently unsolvable problem ...
Pushover is a great logic game that can keep you busy for a long time. Not so much because of the difficulty, but rather that you will play it even after completing all the levels from the beginning. So the ants succeed ... 
Reviewed by

Anonym – 1. april 2014
User reviews
There are no reviews yet, be the first to review this game!