Transport Tycoon Deluxe
DOS game, 1995
Genre:

Year:

Developer:

Publisher:

Perspective:

Theme: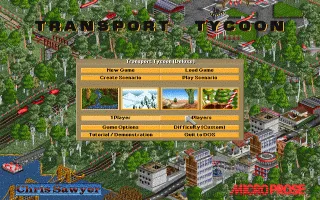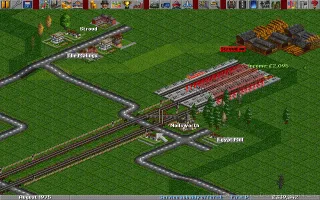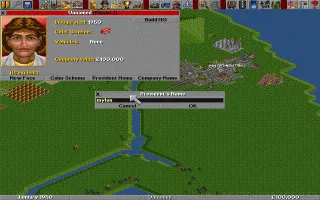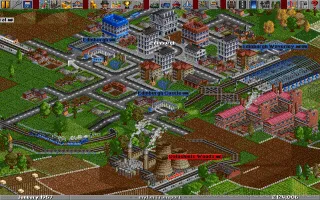 Transport Tycoon Deluxe is an enhanced re-release of Transport Tycoon which introduces single-direction signals, three new landscape environments (arctic, tropical, toy land) with unique challenges, and an in-game time span from 1950 to 2050. A scenario editor is included, but the Martian environment from the Transport Tycoon World Editor is absent. In this game you are the director of a transport company. First, set up your main tent, choose a name, a "company color" and a director's (or director's) face. I remember always looking for the biggest city for the headquarters so that I would "not be in a forkhole", the fact is that it is possible to build "in the middle of nowhere". From the beginning, it is just a very modest house with wooden fencing, but if you are handy, it can become a modern "business center" like J&T on Patrónka :-) - in short, a multi-storey building with concrete fencing and its own parking lot.
Game review
When I first came to bestoldgames.net to download some games and saw the fact that such a game with a big G-A-M-E and such a BOMB doesn't have a review here yet, I decided to change it.
To get to the point: Transport Tycoon de Luxe is the work of Microprose, the head of which is the legendary Sid Meier (the main programmer of the game is Chris Sawyer), who is responsible for all those "ufá and x-comy", "civilizations", Colonization and many other very good games. You could say that the game that Sid Meier released on the air was always at least a bomb, if not more. And it was no different in this case either.
The game starts as a classic strategic dozen. You are on a green field, here and there a farm, a mine, a slaughterhouse, an ironworks, and a few larger or smaller places. And of course the sea :-). One would think that "it's some kind of <|> guilt." But then it all starts.
In this game you are the director of a transport company. First, set up your main tent, choose a name, a "company color" and a director's (or director's) face. I remember always looking for the biggest city for the headquarters so that I would "not be in a forkhole", the fact is that it is possible to build "in the middle of nowhere". From the beginning, it is just a very modest house with wooden fencing, but if you are handy, it can become a modern "business center" like J&T on Patrónka :-) - in short, a multi-storey building with concrete fencing and its own parking lot.
After completing this basic procedure, you can roll up your sleeves and start working. And there is more than enough of that. As the director of a transport company, you can transport goods in 4 basic ways: by road, by rail, by air and by sea. So we have buses and trucks, trains, ships and planes (helicopters). So go straight to the biggest city. A bus service would be stabbing here. Hm. We choose the type of stop, and according to the area that the stop can serve, we look for a suitable place, we click on a free square on the map and boom, we have a bus stop. So now one more stop at the other end of town (so it still spills as much money as possible) and we have --- we have two stops, but what's next? How and where to take the bus? Where should he go? Should he wait at the bus stop to fill up, or should he leave now? And what will be the service intervals? Will he have more than two stops and in what order will he serve them? Can I choose from several buses? What will be the operating costs? And how high will the initial cost of building roads?
You will have to deal with all these issues from the very beginning. It's fantastic what possibilities this game has to offer from the very beginning. And I have sketched only one sub-industry: Transport Company, Bus Division ;-P. Transport of living people. One of about 15 items you can carry. You can drive people from stop to stop. But with goods, it's a little more complicated. When you take iron ore in a mine and want to unload it at a freight station in the city, the ore will not be unloaded. Why? Because iron ore does not belong to the city post office, but where? Well, to steel mills.
Now you would say that this transaction ends the whole game. OMYL! Where others end, others begin. The ore was transported to steel mills. The steel mills will process it. Money will be credited to your account. And after a short while at the cargo stop at the steel mills, 30 tons of steel suddenly waits. Where to with her? Steel mill? The steel is further processed. At the opposite end, at the exits, there are already 20 boxes of goods (my friend and I called them "goths") processed from transported steel. And you can easily take them to the city to a location where there is interest in these goods. Do you think that you will transport this whole "life cycle" from raw material to goods in one truck? Well for sure!
The number of vehicle types is about the same as the number of items you can carry. You transport the ore in another truck, the steel in another, and the box of goods in another. Furthermore, the amount of production of the relevant item, such as the steel mentioned, depends on how much iron ore you bring to the factory (in iron ore, the quantities of ore mined are generated more or less randomly, but I would not invent it better, as it is the same "First article", ie primary production). So you can have a huge steel plant and US Steel Košice, but also a small factory that produces only a few tons of steel a month.
If you build a truck stop at a company (whether it's a forest, a farm, a steel plant, a refinery) and you find that they don't have time to export production (which you will find out very quickly since they all look +/- like our Avia) and longer-distance transport is like this insufficient, actually impossible, is not a problem. If the place (and also the city, it will be discussed later), allows the train platform (or platforms) to be added to the stop, and thus all the raw materials that belonged to one stop automatically belong to two. So whoever comes first takes it first. You can send up to 4 trains to share raw materials that were at the stop before. 
Well, not so fast! In the beginning, you will receive a few hundred thousand dollars, which you will also have to repay to the bank (and not for the usury interest that our banks give). So at first you won't be able to jump very high, the best way is to build a long train track, preferably a double track (again, to be precise, one train on one track, the other on the other - later a "monorail" and another better track mode will appear in the game) and return on investment is guaranteed. So that there are not many bridges, but especially tunnels.
Exactly, even in this way, uneven terrain can be overcome. This is a chapter in itself, because the terrain will never be completely flat. Even the mildest terrain sometimes has some hills or long gentle climbs. There are basically three ways to overcome these inconveniences: either you simply place the rails on a climb (and the climb must be without tilting left or right), or you can "level" the terrain, or you can build a bridge over a gorge or lake. Here, too, you even have a choice. From wooden to bridge with steel girder (Girder Steel). Later, another special one will be added, which will have significantly higher speed limits. True, you can't walk more than 20 km / h on a wooden bridge and the "Girder steel bridge" only offers you 112 km / h, which will be too low a speed for trains later. In principle, it is always worthwhile to design the track so that it has the smallest possible ascents and descents, because every means of transport slows it down considerably. And fully loaded steam locomotives the most. The curves also slow down - the sharper the more. The physics are also quite well mastered here and the behavior of the vehicles is predictable. Even the overtaking maneuver for buses is well graphically treated.
However, the game does not only hide such "serious" problems, it also hides a pinch of fun. For example, do you have a farm that produces so many cows that you can no longer take it by train or truck? No problem! We will build an airport, buy concords, remodel them for a small fee to be able to transport cows, and hop! In the concorde in the first class, the cows put it out at supersonic speed to the opposite end of the map, where the slaughterhouse is. In real life, those cows would have to be expensive and expensive to drive in a concorde and first class. In this game you can do it and you will also earn and have fun. And what about coal or wheat in a Boeing 747/400 Jumbo Jet? No problem.
Why? But there can be one obstacle. And that is local government. This was also thought of. Even officials are just people and citizens of the city, and in every city, your company has a certain reputation. This is measured by various indicators, the main ranking of transport capacity (ie whether any goods / people remain at the stop even after the departure of the vehicle), the number of revolutions per month, ie how many times a month you literally manage to "turn" for goods or people and finally to what extent do you interfere with the city. If you break half of the city to build an airport there, take the poison of the fact that after a few "mild building modifications" they will forbid you to build anything and demolish anything. These are the nerves when the intention is good and you are literally missing the last step. These are then "ironers" for locals in the form of support for the construction of new buildings and general reconstruction of roads and advertising campaigns. I would add that as the city grows, so does its infrastructure and appearance. This means that in the center of the 3,000-meter "metropolis" there will already be concrete paving and tree lines, or lighting, as well as large buildings and football pitches and supermarkets on the outskirts of the city.
The musical accompaniment forms a special chapter in this game. Right from the beginning, you will be greeted by a perfectly melodic dynamic and at the same time relaxed soundtrack, which is carried in the style of funk, as well as other songs. Anyone who has played this game before will like to remember names like "Easy driver", "Sawyer's tune", "Funk central", "Goss groove", "Don't walk!", "Aliens ate my railway", Broomer's oil rig and others. You don't have to write much about it, you need to hear it. But it may be that someone just doesn't like the music. How many people, so many tastes.
Despite all these advantages, the Transport Tycoon shines with a few minor disadvantages. For example, if you overdo it with the number of buses on the line and put too many of them, after a while they will literally get entangled in each other, creating a lump that stands helplessly and the buses can't get there or back. The only solution is to turn the buses on the edge to the depot and remove them from the line or move them elsewhere. Furthermore, trains can pull a maximum of 9 or 8 wagons (depending on whether the locomotives are 2 or 1). And this is only possible if you build the station of the longest length. Otherwise (shorter station or longer train) the train at the station will be disproportionately long and may even be loss-making. Those downtimes can really count in minutes of real time. And that with big money. Then I'm also a little sorry that the level crossings will trigger a warning signal too late and fast trains can literally "scan" everything that moves on the rubber wheels. This also cannot be influenced, the game will expose the crossing and set all parameters automatically. The only collision-free solutions are then either overpasses or underpasses. If we want to talk about traffic safety, it is also not the most sensible that a Boeing 747 is trying to land with passengers at a small airport for farm planes. It will land but no one will survive. Not even the cows I mentioned. The algorithm for selecting the optimal route for buses and trucks also has its weaknesses. I will give an example. There are two bridges in the city, one wooden and one steel. The bridges are parallel and are perpendicular to the destination point and the path, so the path across both bridges is the same length. However, if a wooden bridge follows first and then a steel bridge, the bus will choose a wooden one. Which is a bit of a pity, but it can be solved by breaking the road (and in its place by exhibiting a large statue of the director of the company: D). On the other hand, if a slower vehicle goes in front of the bus, the bus will overtake it. In addition, if you have a lot of means of transport, over time it will take you a long time to replace them with new ones, as it is not possible to repair indefinitely. Personally, I would appreciate if it were somehow automated, i. for 1-5 clicks, so that all vehicles park themselves in garages, depots, hangars, shipyards, depots and replace them with new ones. Otherwise, it costs a lot of effort and it is an activity that will then only divert you from the main purpose of the game. In other words, you don't focus on the essentials. The last thing I can think of is competition. This is probably the biggest minus of the whole game. Computer intelligence is literally primitive, and if you have competitors, you have to deal with crossing their communications either through a tunnel or by bridging. They are untouchable and almost always built in such a way that they interfere with you as much as possible and in some cases make it impossible to build a tunnel or bridge.
What to add at the end? I could still write many pages about this game. This game is just great because it has an overwhelming advantage of pros over cons. You will never be bored and you will still have something to do even after the official end of the game in 2050. It always happens that a train will be lost, some route will need to be strengthened, you can apply for a state subsidy if you meet the conditions. You can see the occupancy of the stops. You can think about speeding up transport (yes, the faster you deliver something, the more money you have - this is reflected especially over long distances). You may suffer air and traffic accidents and accidents. I personally ended up around 2070 with a few billion dollars. There is always something to improve and this game is the only one that, both 13-year-olds and 21-year-olds, managed to keep me up until the 6th hour without a break. You will not find any violence in this game and it does not contain a single drop of blood (that cows become goods? Sorry, cows need to be killed, you have to eat, that doesn't count). In this game there is an economist, in this game there is a manager, in this game there is a technician and it is a game really for a creative person. This game has received so much attention that a patch has been made for it that eliminates some of the above-mentioned bugs (such as the one with 8-car trains) and another patch that replaces the fictitious names of vehicles and manufacturers with original ones. A conversion for windows has been made for Transport Tycoon de Luxe, so you can play it today without any problems and dosboxing. There is even a version of OpenTTD with freely modifiable source code. And this is, ladies and gentlemen, something that would deserve special not only a chapter but a review.
So with the claim that no one is perfect and that an almost perfect thing is therefore perfect, I give this game a hundred percent problem, ten out of ten, an A * mark, a unit underlined with an asterisk. Especially since this game, although made more than 10 years ago, is still playable, you do not need the latest achievements of modern technology and it has a spirit in it. And no game, or rather a glue of something that looks like a "first person action game", will give you that. It carries a memento, sets an example and shows a warning finger to a computer game maker, which unfortunately no one sees. But about that another time.
Bravo Microprose! Vivat Sid Meier! Glory to you, Chris Sawyer! 
Reviewed by

Anonym – 1. april 2014
Comments
Below are the most recent comments. Discuss this game in our forum to see all of them.
The game does not start. The mesage on the screen is, illegal comand TYCOON EXE.
If you meant online game, then it should be fixed now. Thank you for the report.

I've bulk added many games to be playable online and there can be some issues I missed and now I'm fixing them when I stumble around them.
User reviews
There are no reviews yet, be the first to review this game!