Transport Tycoon Deluxe
DOS hra, 1995
Žánr:

Rok:

Výrobce:

Distributor:

Perspektíva:

Téma: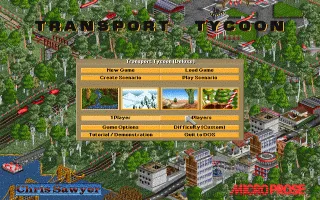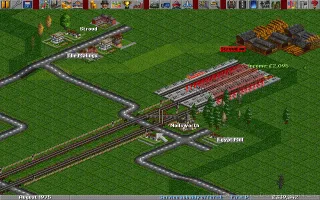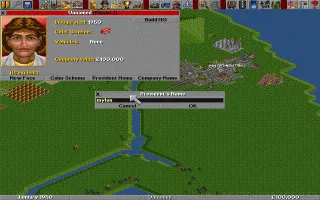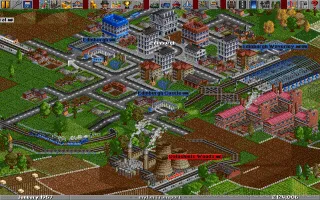 Transport Tycoon Deluxe je vylepšené re-vydání Transport Tycoon, které přináší signály v jednom směru, tři nová krajinná prostředí (arktická, tropická, hračka) s jedinečnými výzvami a časové rozpětí ve hře od roku 1950 do roku 2050. Editor scénářů je zahrnuto, ale marťanské prostředí ve editoru Transport Tycoon World Editor chybí. V této hře jste ředitelem přepravní společnosti. Jako první si postavíte svůj hlavní stan, vyberete jméno, firemní barvu a ředitelovy (nebo riaditeľkinu) tvář. Pamatuji si, jak jsem pro centrálu vždy hledal největší město, abych nebyl v nějakém Vidláková, fakt je ten, že se dá postavit i in the middle of nowhere. Ze začátku je to jen velmi skromný domeček s dřevěným oplocením, ale když budete šikovní, může se z něj stát moderní bizniscentrum jako J & T na patronce :-) zkrátka vícepatrová budova s betonovým oplocením a vlastním parkovištěm.
Recenze hry
Když jsem poprvé přišel na stránku bestoldgames.net, abych si posťahoval nějaké hry, a uviděl ten fakt, že taková hra s velkým H-R-A a taková PECKA tu este nemá své recenzím, rozhodl jsem se, že to změním.
Abychom se dostali k věci: Transport Tycoon de Luxe je dílo firmy MicroProse, Sefó které je legendární Sid Meier (hlavním programátorem hry je Chris Sawyer), ktery má na svědomí Všechny tie UFA a x-Comu, civilizacím, Colonization a mnoho dalších velmi dobrých her. Dalo by se podaří, že hra, kterou vypustil do éteru Sid Meier, byla vždy alespoň bomba, ne-li více. A nebylo to jinak ani v tomto případě.
Hra začíná Jak klasická strategická tuctovka. Jste na zelené louce, sem tam nějaká farma, nějaká důl, jatka, železa, a pár větší nebo menších měst. A samozřejmě moře :-). Člověk by si myslel, že to je zas nějaká <|> vina. Ale pak se to všechno začne.
V te hře jste ředitelem přepravní Společnosti. Jako první si postavíte svou hlavní stan, vyberete jméno, firemní Barvu a ředitelovy (Nebo riaditeľkinu) tvář. Pamatuji si, jak jsem pro centrálu vždy hledal Největší město, abych nebyl v nějakém Vidláková, fakt je ten, že se dá postavit ai in the middle of nowhere. Ze začátku je to jen velmi skromné ​​domeček s dřevěným oplocením, ale když budete šikovní, Moze se z něj stát moderní bizniscentrum Jak J & T na patronky :-) zkrátka vícepatrová budova s ​​betonovým oplocením a vlastním parkovištěm.
Po absolvování te základní procedury si mozem vyšukat rukávy a pustit se do roboty. A té je tu více Jak dost. Jelikož jste ředitelem přepravní společnost, mozem přepravovat zboží 4 základními způsob a to po silnici, na kolejích, ve vzduchu a na moři. Takže máme autobusy a náklaďáky, vlaky, lodě a letadla (helikoptéry). Takže podhledu přesně do největšího města. Tu by bodla nějaká ta autobusová přeprava. Hm. Vybereme typ zástávky, a podle rozlohy, kterou můžu zastávka obsloužit, hledáme vhodné místo, klikneme na volný čtvereček na mapě a bum, máme autobusovou zastávku. Takže teď ještě jednu zastávku na druhém konci města (aby to přece sypal co nejvíce peníze) a máme --- máme dvě zastávky, ale co Dále? Jak a odkud vypravit autobus? Kam má jít? Má na zastávku čekat, dokud se naplní naplno, nebo má vyrazit ihned? A AKÉ bude Mít servisní intervaly? Bude Mít více zastávek Jak dve a v jakém pořadí je bude obsluhovat? Mohu si vybrat z více autobusů? Jaké budu Mít Provozní náklady? A AKÉ vysoké budu jména a adresy náklady na stavbu komunikacím?
Všechny tieto otázky budete muset řešit už od prvních okamžiků. Je to fantastické, AKÉ možnosti nabídky tato hra již od úplného začátku. A to jsem nastínil pouze jedno sub-odvětví: Dopravní podnik, divize autobusy ;-P. Přeprava živých Lidi. Jeden z cca 15 artiklu, ktere mozem vozit. Lidí Moze vozit ze zastávky na zastávku. Ale se zbožím to už je trošku komplikovanějším. Když vezmete železnou rudu v dole, a budete ji chtít vyložit na nákladní zastávky ve městě, ruda se nevysvětlí. Proč? Protože železná ruda nepatří na městskou poštu, ale kam? No přece do oceláren.
Nyní byste si Řekla že touto transakcím se celá hra končí. OMYL! Kde činí končí, činí začínaj. Ruda byla dopravena do oceláren. Ocelárny ji zpracují. Vám se přičítají na účet Peníze. A po malé chvilku na nákladní zastávky při ocelárnách najednou čeká 30 tun oceli. Kam s ní? Steel mill? Ocel se Dále zpracovává. Na opačném konci, na výstupech, vás čeká už 20 beden zboží (s kamarádem jsme je nazývali Gockel) zpracovaných z dopravené oceli. A ty už mozem bez problémové vzít do města do lokality, kde je zájem o toto zboží. Myslíte si, že celý tento životní cyklus od suroviny až po zboží přepravíte v jednom kamionech? No to určitě!
Počet robn dopravních prostředků je zhruba asi takový, jaký je počet artiklové, ktere mozem převážeme. Rudu převezete v jiném kamionů, ocel v jiném, a bedny zboží zase v jiném. Dále, výška produkce dotčeného výrobku, například zmiňované oceli, závisí na tom, kuželky železné rudy do továrně přinese (při železné rudě se tie množství vytěžené rudy Generuj více-Méně už náhodně, ale Lepší bych to nevymyslel ani já, protože je to ten první článek, tj prvovýroba). Takže Moze Mít obrovskou ocelárnu a lá US Steel Košice, ale hle drobném továrničku, ktera vyrobí měsíčně pouze pár tun oceli.
Pokud při podniku (ať už je to les, farma, ocelárna, rafinerie) postavíte nákladní zastávku pro kamiony a Zjistíte, že nestíhají vyváží produkci (což Zjistíte velmi rychlé jelikož Všechny vypadají +/- Jak naše Avie) a přeprava na větší dálky je takto nedostačující, vlastně nemožná, není problém. Pokud to místo (a hle město, o tom ještě bude řeč) totiž Dovoluje, přistavit k zastávky vlakové nástupiště (Nebo nástupištím) a tím pádem Všechny suroviny, které připadaly na jednu zastávku, automaticky připadají na dvě. Tedy, kdo brzy přijde, ten skoro Berie. Vlaky Moze vypravit až 4 tak aby sdíleli už suroviny, ktere bolí na zastávku ai předtím případě (pokud je třeba více vlaků) třeba přistavit další vlakovou stanici, která však začne se surovinami od nuly. Nebo (čím pádem budete mít sjednocenou trojzastávku) přistávají letiště. Tož su milionář, nebe nější? Přikoupit.
No ne tak rychle! Na začátku dostanete pár set tisíc dolarů, které navíc budete muset ještě splatit bance (a nikoliv za lichvářské úroky což dávají naše banky). Takže zprvu si nebudete moci velmi vyskakovat, nejlepším způsobem je postavit dlouhou vlakovou trať, nejlépe dvoukolejnou (opět pro upřesnění, jeden vlak na jedné koleji, druhý na druhé později se ve hře objeví i monorail a ještě i jeden lepší kolejový mód) a návratnost investice je zaručena. Ještě aby tam nebylo mnoho mostů, ale zejména tunelů.
Přesně tak, i tímto způsobem se dají překonat nerovnosti terénu. Ono to je kapitola sama o sobě, protože terén nikdy nebude zcela plochý. I ten nejmírnější terén má občas přece nějaké kopce nebo dlouhé mírně stoupání. Tyto nepříjemnosti se dají překonat v zásadě třemi způsoby: buď jednoduše postavíte kolejnice do stoupání (a to stoupání musí být bez naklánění vlevo nebo vpravo) nebo terén srovnáte, nebo přes roklinu nebo jezero postavíte most. I zde máte dokonce možnost výběru. Od dřevěného až po most s ocelovým nosníkem (Girder Steel). Později přibude ještě jeden speciální, který bude mít podstatně vyšší rychlostní limity. Amen, po dřevěném mostě nemůžete jít více než 20 km / h a Girder steel bridge vám nabízí pouze 112 km / h, což bude pro vlaky později příliš malá rychlost. V zásadě se vždy vyplatí navrhnout trať tak, aby měla co nejmenší stoupání a klesání, protože každý dopravní prostředek to podstatně zpomaluje. A plně naložené parní lokomotivy nejvíce. Zatáčky zpomalují rovněž čím ostřejší, tím více. Fyzika je zde také docela dobře zvládnutá a chování vozidel je předvídatelné. Ještě i předjížděcí manévr u autobusů je dobře graficky ošetřen.
Hra však neskrývá pouze takové vážné problémy, ukrývá v sobě i špetku zábavy. Tak například máte farmu, která produkuje tolik krav, že to nestíháte už odvézt ani vlakem, ani náklaďáky? Žádný problém! Postavíme letiště, nakoupíme Concord, předěláme je za mírný poplatek, aby byly schopny převézt krávy, a hop! Krávy si to v concorde ve first classe hasí nadzvukovou rychlostí na opačný konec mapy, kde je jatka. V reálném životě by ty krávy musely být k *** a drahé, aby se vyplatilo vozit jejich v concorde a první třídou. V této hře to jde a ještě vyděláte a pobavíte se. A co takhle uhlí nebo pšenice v Boeingu 747/400 Jumbo Jet? Žádný problém.
Že by? No jedna překážka přece jen může existovat. A to je místní samospráva. I na toto se myslelo. I úředníci jsou jen lidé a občané města a v každém městě má vaše společnost určitou reputaci. Ta se měří různými ukazateli, mezi hlavní zařadím přepravní kapacitu (tedy zda nějaké zboží / lidé zůstávají na zastávce i po odchodu dopravního prostředku), počet otáček za měsíc, tedy kolikrát za měsíc se doslova stihnete otočit po zboží nebo lidi a nakonec , do jaké míry zasahujete do města. Pokud jim rozbijete půl města na to, abyste tam postavili letiště, vezměte jed na to, že už po pár mírných stavebních úpravách vám zakážou cokoliv postavit a cokoli zbourat. To jsou pak nervy, když záměr je dobrý a chybí vám doslova poslední krůček. To jsou pak vyžehľovačky u místních v podobě podpory výstavby nových budov a generální rekonstrukce silnic a reklamních kampaní. Ještě dodám, že jak se rozrůstá město, rekonstruovány se i jeho infrastruktura a vzhled. To znamená, že v centru třítisícové metropole bude už betonová dlažba a stromořadí, případně osvětlení a také velké budovy a na okrajích města fotbalová hřiště a supermarkety.
Hudební doprovod tvoří v této hře zvláštní kapitolu. Hned od začátku vás přivítá perfektně melodicky udělaná dynamická a zároveň pohodová znělka, která se nese ve stylu funku, tak jako ostatní skladby. Kdo hrál tuto hru už i předtím rád si zavzpomíná na názvy jako Easy driver, Sawyer s tune, Funk central, Goss groove, Don t walk!, Aliens ate my railway, Broomer s oil rig a další. O tom není třeba moc psát, to třeba slyšet. Ale může být, že někomu ta hudba prostě nesedne. Kolik lidí, tolik chutí.
Přes všechny tyto klady Transport Tycoon-u prosvítá pár drobných minusů. Například pokud to s počtem autobusů na lince přeženete a dáte jejich příliš, začnou se po chvíli do sebe doslova vplétají a vytvoří tak bouli, která bezmocně stojí a autobusy nemohou ani tam ani zpět. Řešení je jediné, autobusy na kraji pootáčet do vozovny a odstranit je z linky nebo jejich přesunout jinam. Dále, vlaky mohou táhnout maximálně 9 nebo 8 vozů (podle toho zda jsou lokomotivy 2 nebo 1). A to je možné pouze v případě že postavíte stanici největší délky. V opačném případě (kratší stanice nebo delší vlak) bude stát vlak na nádraží neúměrně dlouho a může být dokonce i ztrátový. Ty prostoje se mohou opravdu počítat iv minutách reálného času. A to stoji velké peníze. Pak mě trochu mrzí i fakt, že železniční přejezdy spustí varovnou signalizaci příliš pozdě a rychlé vlaky vám mohou doslova skántriť vše, co se hýbe na gumových kolech. Toto se také nedá ovlivnit, hra přejezd vystaví a všechny parametry nastaví automaticky. Jediným bezkolizních řešením jsou pak buď nadjezdy nebo podjezdy. Pokud se chceme bavit o bezpečnosti provozu, také není nejrozumnější, že Boeing 747 se snaží přistát s cestujícími na malém letišti pro farmářské letadla. I sluší ale nikdo to nepřežije. Ani ty krávy co jsem již zmiňoval. Algoritmus výběru optimální trasy autobusů a nákladních vozidel také má i svá slabá místa. Uvedu příklad. Ve městě jsou dva mosty, jeden dřevěný a jeden ocelový. Mosty jsou rovnoběžné a jsou kolmo na cílový bod a cestu, čili cesta přes oba mosty je stejně dlouhá. Pokud však následuje nejprve dřevěný a potom ocelový most, autobus vybere dřevěný. Co je troška škoda ale dá se to řešit přerušením vozovky (a na jejím místě vystavěna velké sochy ředitele firmy: D). Na druhé straně, pokud jde před autobusem pomaleji vozidlo, autobus ho předčí. Navíc, pokud budete mít hodně dopravních prostředků, tak po čase vám bude brát dost času i to, abyste je vyměnili za nové, protože opravovat nelze do nekonečna. Osobně bych ocenil, kdyby to bylo nějak zautomatizované, tj na 1-5 prokliků, aby se všechna vozidla samy odstavili do garáží, vozovna, hangárů, loděnic, dep a vyměnili za nové. Jinak to stojí dost úsilí a je to činnost, která vás pak pouze odkloní od hlavního záměru hry. Jinými slovy, nesoustředíte se na podstatné věci. Poslední věc, co mě ještě napadá, je konkurence. To je asi takové největší minus z celé hry. Počítačová inteligence je doslova primitivní a pokud máte konkurentů, tak musíte řešit přechod přes jejich komunikace buď tunelem nebo přemostěním. Jsou nedotknutelné a téměř vždy postaveny tak, aby vám co nejvíce překážely a v některých případech znemožňovaly i stavbu tunelu nebo mostu.
Co dodat na závěr? O této hře bych věděl ještě napsat mnoho stran. Tato hra je prostě super, protože má drtivou převahu kladů nad zápory. Nikdy se nebudete nudit a stále budete mít co dělat i po oficiálním zakončení hry v roce 2050. Vždy se vám stane, že nějaký vlak bude ztrátový, nějakou trasu zas naopak bude třeba posílit, můžete se ucházet o státní dotaci, pokud splníte podmínky. Můžete si prohlédnout vytíženost zastávek. Můžete popřemýšlet nad zrychlením přepravy (ano, čím rychleji něco dopravíte, tím více peněz máte toto se odrazí zejména na dlouhých vzdálenostech). Mohou se vám přihodí letecké a vůbec dopravní nehody a neštěstí. Já osobně jsem skončil asi v roce 2070 s několika miliardami dolarů. Vždy se dá něco vylepšit a tato hra je jediná, která mě i jako 13-letého a i jako 21-letého dokázala udržet bez přestávky do 6. hodiny ranní nahoru. V této hře nenajdete žádné násilí a není v ní obsažena ani jedna kapka krve (že z krav se stane zboží? Sorry, krávy třeba zabít, člověk musí jíst, to se nepočítá). V této hře se najde ekonom, v této hře se najde manažer, v této hře se najde technik a je to hra skutečně pro tvůrčího člověka. Tato hra se dočkala takové pozornosti, že byl pro ni vyroben patch, který některé z výše uvedených chyb (například tu s 8-vozovými vlaky) odstraňuje a další patch, který nahrazuje vymyšlené názvy vozidel a výrobců originálními. Pro Transport Tycoon de Luxe byla vyrobena konverze pro windows, takže si ji bez problémů a DOSBox můžete zahrát i dnes. Dokonce existuje i verze OpenTTD s volně modifikovatelným zdrojovým kódem. A toto je, vážení, věc, která by si zasloužila zvláštní nejen kapitolu, ale recenzi.
Takže s tvrzením, že nikdo není dokonalý a že téměř dokonalá věc je tím pádem dokonalá, dávám této hře bez problémů sto procent, deset z deseti, známku A *, jednotku dvojpodčiarknutú s hvězdičkou. Zejména proto, že tato hra, přestože byla vyrobena již před více než 10 lety, je stále hratelná, nepotřebujete nejnovější výdobytky moderní techniky a má v sobě ducha. A to vám neposkytne žádná hra, nebo spíš zlepenina něčeho, co se tváří, že je first person action game. Nese v sobě memento, jde sama příkladem a ukazuje výstražný prst výrobcem počítačových her, který bohužel nikdo nevidí. Ale o tom jindy.
Bravo MicroProse! Vivat Sid Meier! Sláva Ti, Chris Sawyer! 
Recenzoval

Anonym – 1. duben 2014
Uživatelské recenze
Nejsou zde zatím žádné recenze, buď první, kdo přidá recenzi na tuto hru!
Prosím, zaregistrujte se nebo se přihlašte na přidání recenze!
Extra
Žádné extra informace. Zatím!