Theme Hospital
DOS game, 1997
Genre:

Year:

Developer:

Publisher:

Perspective:

Theme: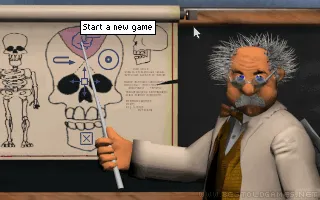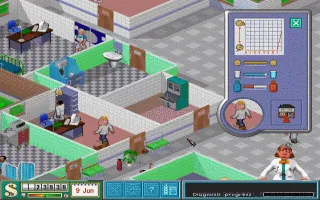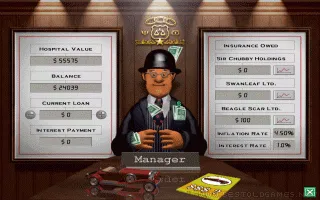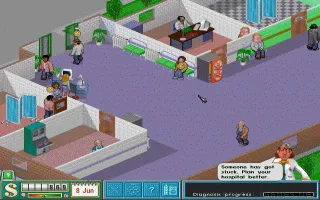 After a humorous intro you will see a quite nicely menu... At the beginning of the game there is only skeleton of the hospital in front of you and it's up to you to think about layout and arrange the whole hospital. In the hospital, you can set up different ambulance from examination room to the operating room. You will also need to hire a couple of doctors by profession (chirurg, psychologist, scientist, etc.) and according to their knowledge put them to each department. People slowly begin to come into your hospital and you have to deal with their real and unreal health problems.
Game review
Have you had a chance to play Theme Hospital? Well, if yes, you are lucky. However, if you haven't, then you have many reasons to find out what the game is all about. Just like the title suggests, it's a Hospital game with many challenges to face and problems to solve. Only the courageous and persistent will tackle it.
Overview
Theme hospital presents a situation that could only be described as a matter of laugh and death. Now, the latest edition of this game requires players to design, maintain and manage a hi-tech hospital facility. The problem is that there are very few resources to do this, so the player must be creative in how they use the available resources.
We've seen players turning cures into cash to help the situation when the going gets tough. Patients here have some very weird ailments. The hospital staff want to assume the role of doctors and nurses together. In short, no matter which way you choose to look at it, you're the only person in control of a very very sick hospital.
You must stay within the budgetary constraints while making sure you heal the highest number of patients. In order to ensure that you save patients from the imminent death, players need to build rooms that will perform certain diagnostics and curative functions. Another challenge is that players must staff the hospital with enough manpower to help patients recover. That means you need doctors, nurses, handymen, receptionists etc.
Players need to buy inventories such as fire extinguishers, benches, drink machines and radiators. By combining all the resources mentioned, a player must coordinate them together in such a way that the maximum number of patients are healed within the budgetary allocation. They must deposit fees in the hospital coffers, while making sure they don't run out of cash to operate the facility.
The problem
You'll notice that the game gets trickier as you progress. More and more patients will visit the facility, making it harder to treat them all with the available resources. You sleep a little bit, you wake up to a hospital filled up with mess--Smelly dustbins everywhere, filthy toilets that smell like pit latrines in hell, staff going on strike because of poor pay, broken hospital equipments and many more. If you take any longer, the patients might be overwhelmed with their ailments until they die.
The progress
You will only progress after healing enough patients, collecting enough money and getting enough visits from VIP personalities. This means you have to be highly organized to get to the next level. When you prove to be really good at your job, a new hospital will be handed over to you, with more challenges than the previous one.
Theme Hospital is addictive, light hearted and amusing. Even though the overall concept is rather simple, players find it harder as they progress upwards in their career ladder. Most players have also realized that simplicity in this game creates a very addictive formula. As for the most parts of the problems, players can manage them quickly.
For instance, if your hospital staff threatens to strike, you simply raise their salary and they'll stay. If patients have increased in numbers and they have nowhere to go, simply build more rooms. It's quite easy to earn more money in this game, so fixing some problems shouldn't be that tricky.
Features
1 The graphics
The graphics in this game are eye-catching. Theme Hospital takes advantage of cartoon-style artwork, which makes it an ideal game for those who love animation.
2 Sound
The sound quality is great. Theme Hospital has audio with different effects of drinks being dispensed, doors opening or closing and many more. There's a variety of audio sounds, which enhances the overall taste of the game.
3 Enjoyment
Users enjoy the fact that the game throws plenty humor at them. However, others say that after playing for a couple of hours, they grow tired.
4 Replay value
Like most games, users felt that once they completed a level, there was little or no need of repeating the level again.
5 Documentation
The game comes with a 50-plus page manual to guide you on how to play. This manual talks just about everything users need to know about the game.
Cons
Players complain that the AI system is not entirely reliable. If you don't supervise your staff, they won't go to the places where problems are taking place. On the other hand, the handymen don't even take care of the mountain of waste forming on one wing of the hospital, unless you supervise and instruct them on what to do.
What they do best is to hoover around pretending to water the plants while a major problem is looming on the other side.
In short, you can't entirely rely on the AI system as it will fail you. If you don't want problems to arise here, keep moving your staff to the problematic areas and they'll work on them.
Another problem that players have seen with this game is about how patients use the hospital facilities. Take the example of the radiator, if there are few of them in the hospital, patients will get uncomfortable and you'll notice some of them showing up on the front door. However, if there are plenty of them, patients get warm and crowd the drinking machine to get some water. Of course such activities drain the hospital pockets.
Conclusion
In general, Theme Hospital carries some great graphics for any gaming enthusiast to enjoy in its category. It also boast crisp-clear audio as well as plenty of humor to laugh at. Remember that the game requires your full participation, which means you should not rely entirely on the AI system. The game is very simple to understand. Prepare for some challenges on the higher levels. It's quite addictive, so watch out because it will take up most of your time. All in all, it's a PC game worth trying your hands on if you haven't played it before. The concept is rather intriguing, but you have to believe in your ability to control your resources wisely.
Reviewed by

Anonym – 1. april 2014
User reviews
There are no reviews yet, be the first to review this game!