Biing!: Sex, Intrigue and Scalpels
DOS game, 1991
Genre:

Year:

Developer:

Publisher:

Perspective:

Theme: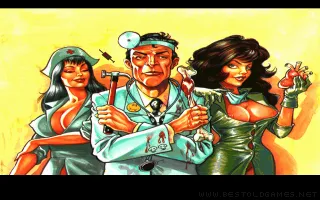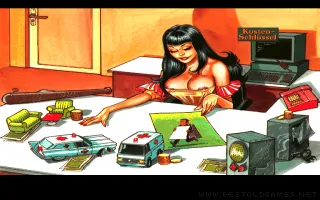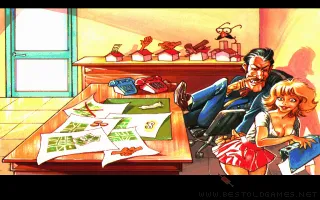 Biing! (the name is derived from "The Machine that makes pink" from the movie The Meaning of Life) is a game about running a hospital. In contrast to the thematically similar Theme Hospital, the humor is rather satirical, you will be in charge of incompetent doctors and nurses whose only qualification is the size of their chest (the authors go so far as to push the message about the dishonesty of the whole project twice before you start to play).
All financial operations take place in a game currency called "dong", for which the player pays not only land and buildings, but also hospital equipment and staff salaries. The money is obtained, among other things, by treating patients, and if the account balance drops to zero, the game ends.
Biing! it is riddled with cartoon images similar in style to the more famous series with Lula. The (allegedly real) nurse will guide you through the tutorial in the video sequence, and if you do not know how to proceed while playing, it is possible to consult the next step with in-game help in the form of an eternally angry boss.
Game review
No review yet. We are working very hard to write one for you.
You can help us by writing some cool user review for this game.
Comments
Below are the most recent comments. Discuss this game in our forum to see all of them.
Hi all! What precautions should be taken when using sex toys, such as using lubricant and avoiding sharing toys with partners? And tell me how to properly monitor vibro panties, thanks in advance.
Hello! When using sex toys, there are some important precautions to keep in mind to ensure safety and prevent infection. Always use a water-based lubricant to reduce friction and improve comfort, and avoid using silicone-based lubricants with silicone toys as they can damage the material. It is also important to avoid sharing toys with partners or using the same toy for both vaginal and anal play, as this can increase the risk of transmission of infections. When it comes to monitoring the https://maywoodchamber.com/best-vibrating-panties-with-remote-control/ vibrating pants, it is important to regularly check the battery life and monitor the health of the device. It is also recommended to clean them thoroughly after each use and store them in a cool, dry place. As always, when using any sex toy, prioritize safety and cleanliness.
User reviews
There are no reviews yet, be the first to review this game!