Star Goose!
DOS game, 1989
Genre:

Year:

Developer:

Publisher:

Perspective:

Theme: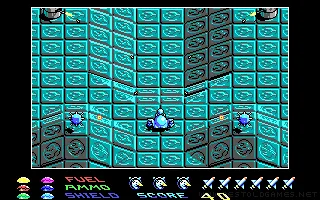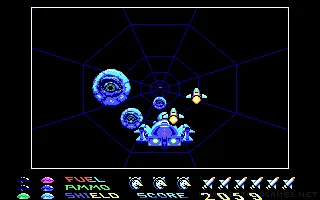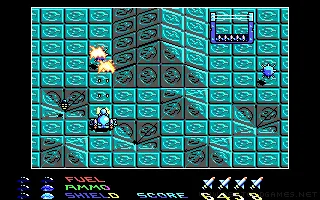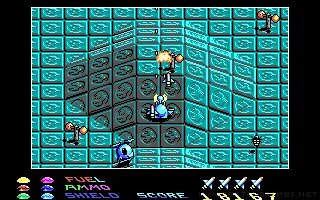 Your goal is not to be eaten, shoot down, or otherwise destroyed. You are flying through the space in semi 3D enviroment and small gun turrets and other enemies are trying to shoot you down. But you are not a goose, so you fire back and are trying to kill everybody. Well, actually, you may be a goose, but still you know how to shoot well, because you are Star Goose! Within the level, you can fly into the tunnel, where you can/must collect points to re-fuel, collect ammo and repair your shields. Beware, however, at the exit of the tunnel, there is usually hidden enemy with a rocket, waiting for you.
Game review
So. Goose game ... First I'll educate you a little bit, goose is a goose. Not that it was the knowledge necessary for this game, but still. It has little in common with the classic goose on a plate. The full name of the game is star goose, so we already have a cheerful cow and a star goose. Great. But back to the game.
Your goal is not to be eaten or eaten or otherwise disposed of. You fly relentlessly towards cosmic distances over slightly undulating terrain and such rotating turrets sew it into you with a machine gun. Well, you're not just any goose and you don't like it, so you shoot them at ... well, nothing will be left of them. Of course, turrets are not the only problematic element in the game. Sometimes a rocket will fly at you, hit a mine or fall into interstellar space (similar to darth Vader). Eventually, when you spread out the whole level, you will go to a wormhole where there are, for example, ammunition. These wormholes lead to other levels, but sometimes you can meet them in the middle as a shortcut. Usually right at the east, someone is cleverly waiting with a rocket ...
To control: you are constantly moving forward without your own intervention, so you can only move independently to the sides. Your parameters are shields, ammunition and fuel. I recommend collecting them on the ground (colored circles) or in wormholes. The terrain is slightly undulating, so sometimes you shoot and nothing happens, there is a wall. But you can also use it for cover maneuvers. Also watch out for black territory, of course you can try it, but it probably won't be the goal of the game - to die.
Writing about pros or cons is probably not worth it, classic shooters, where you keep flying forward, nothing more, nothing less ... Well, maybe something extra would be found;) 
Reviewed by

Anonym – 1. april 2014
User reviews
There are no reviews yet, be the first to review this game!