Risk: The World Conquest Game
DOS game, 1989
Genre:

Year:

Developer:

Publisher:

Perspective:

-

Theme: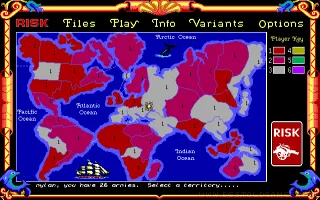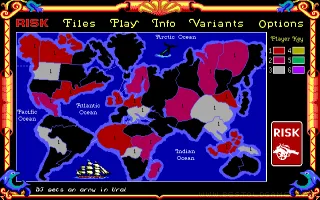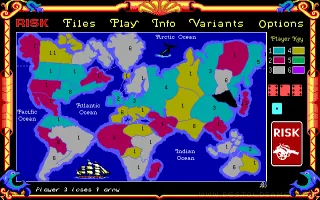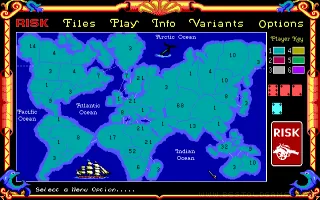 Risk: The World Conquest Game is the official version of the classic board game by Parker Brothers / Hasbro. Principle and the goal is to conquer the world using armies and destroy the opponents by gradual occupation and ruling their territory. You can play in Classic Risk mode, which is a version of the original board game and as in the original version, all battles take place in the period between 1792-1800, the map shows the original geographical names at this time. You can choose between several game modes: UK full game, US full game, UK short game and US short game. Short games have a rule that ensures that the game go faster (in UK short version, for example, you can complete the assigned mission to win. US short game - you can try to attack your enemy headquarters and thus end the game).
Game review
No review yet. We are working very hard to write one for you.
You can help us by writing some cool user review for this game.
Comments
Below are the most recent comments. Discuss this game in our forum to see all of them.
It's fun reading your topics. Comic Play is a reputable online casino that provides a tonne of free games, an intuitive interface, and alluring bonus terms. English is the sole language offered at the online casino that welcomes players from across the world. Visitors may see slot machine demonstrations at the casino. To find out more about the games offered at Comic Play Joy Casino, go to https://casinosanalyzer.com/online-casinos/comicplayjoin.com The club is powered by software from well-known companies like Microgaming, NetEnt, and Evolution Gaming. Along with poker and table games, there is a tonne more of those excellent slots available here. The live dealer area has almost everything you could possibly need to begin this amazing trip.
World of Warcraft Wrath of the Lich King Classic has been officially released on September 27, 2022. Following the TBC Classic, the WOTLK Classic once again sparked the enthusiasm of mmo fans. We need to master the knowledge about DPS Tier, each class and how to farm WoW WOTLK Gold as soon as possible during this initial period.

These guides can be found on Google or in the community, but if you want to find a clear step-by-step guide, it is best to seek the help of the famous WoW Classic service IGGM.com. You can know all aspects of WOTLK Classic on this site.

And, if you're planning to buy WOTLK Gold, you can also easily get cheap in-game coins at IGGM.com. There are so many great deals available, and delivery always takes around five minutes. The speed is so fast and the service is very good. You can consult IGGM if you don't understand anything.

So IGGM.com is definitely the best place to buy WOTLK Classic Gold and read useful guides. Are you interested?

Please click: https://www.iggm.com/wotlk-classic-gold



User reviews
There are no reviews yet, be the first to review this game!