Micro Machines
DOS game, 1994
Genre:

Year:

Developer:

Publisher:

Perspective:

Theme:

-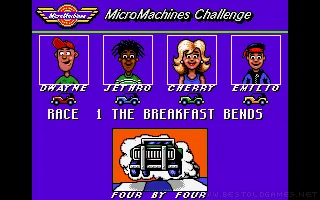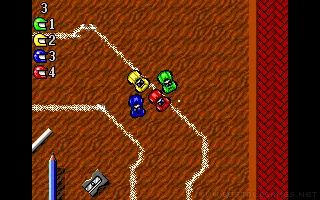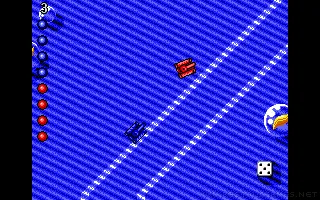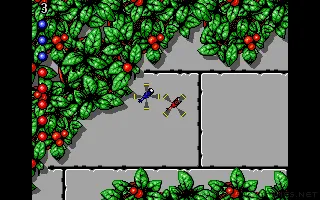 Everyone played with a model cars, and those that say they don't are lying. This is how we can modify the famous quote. In the 90s, the large amount of racing games has been released, focused mainly on real-world racing on the track. Micro Machines are different. You won't race a classic race cars, but instead you will be driving in model cars on tracks, that are atypical - for example, on the table, on the floor, beds of flowers and so on. Really simple, original idea, very, very good gameplay and especially the huge amount of fun. The controls are also simple, you just hold the acceleration button and then just try to be good at the corners. Of course, most professionals know that the brake can come in handy too, but what fun would it be if we held back in the game. In this first par, you can race in cars, tanks, helicopters, or in boats.
Game review
Anyone who claims that you have never played with English people is played with them to this day
[Sigmund Freud by mm-mariek]
In this way, too, Freud's famous statement can be modified. We all wanted to have the best Matchbox ... well, maybe almost everyone, but you know what it's all about. English or boat races ... Perhaps each of us at least once antagonized other family members by holding a race at breakfast, in the bathroom or in the children's room shared with our sister. The micromasin will serve as a reminder of old times. Well, trying to play with the English even now will serve as a training. Why did this game become a legend? mostly thanks to multyplayer. An excellent system and literally ingenious game is in the world. In a normal racing game, the multiplayer game is solved by dividing the screen into several parts. Despite the complexity of the graphics, it is also very confusing. The Codemasters invented it brilliantly. Whoever drags will not run away (it was from Bulík), so otherwise. Who loiters ends. Does it look like he drove you off first off the screen? it doesn't matter, the game stops and you line up again. But you get negative points. Who has more points, won ... Ingeniously simple, simply ingenious!
It is not worth mentioning the control, stepping on the gas and turning. But the professionals know that the brake is also suitable, so the four buttons are just right. In both single player and multiplayer, you can choose whether you will go one fast race or the whole championship, but the difference is in the very concept of the race. you can ride on time individually or take part in the championship. And here is another interesting system. You have a number of "lives" and you race. When placing in the second place, you continue. If not, you have one life less and you end up a head shorter. Initially, a simple game turns into hell. Finishing some races at least in second place is largely a coincidence. And when it comes to vehicles, you can even race in a helicopter, hovercraft, boat or tank. Everything is perfectly worked and each vehicle behaves differently. The control of the formula and the tank is absolutely different - not to mention! You can even modify your own vehicle, which is absolutely great. Tracks, surfaces and even the weather are modified so fun will be taken care of ...
After the final showdown, you will have a very simple but excellent game. Exactly as a rule, in simplicity, there is a force or whoever digs another pit, falls into it himself. Well, probably not, but the fact that it's a great game won't change anything ... 
Reviewed by

Anonym – 1. april 2014
User reviews
There are no reviews yet, be the first to review this game!