King's Bounty
DOS game, 1990
Genre:

Year:

Developer:

Publisher:

Perspective:

Theme: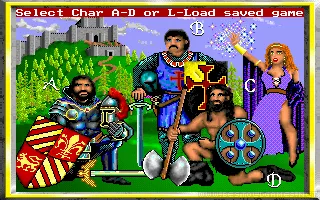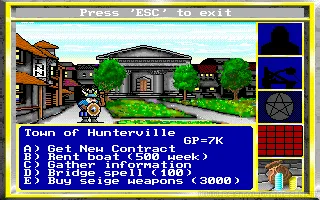 Predecessor of famous old famous game: HOMAM (Heroes of Might and Magic), which did not get much glory, but provided a decent space to start a legend game series. Not too rich menu gives you the choice to choose your race: Knight, Alladin, Barbarian, Sorceress. If you think, that each race is totally different and has a different options and approach to the gameplay, you're wrong. The only difference is, that after you defeat some enemies, king will reward you with different rank, but it will not affect the game at all. If there is a conflict with the enemy, the game switches to the battle mode, very similar to the one present in the HOMAM series.
Game review
Do you know Heroes? NO? Then you are a stocky nestster or a computer abstinent. Yes? Read on for what his great-grandfather King's bounty looked like:
Barbarian or Knight?
The not very rich menu will give you a choice to choose your race: Knight, Alladin, Barbarian, Sorceress. If you expect completely different options or a different game progress for each race, you are next. At most, the king will crown you with a different resounding rank after defeating several enemies, but this will have a poorly (actually not) effect on the game.
Interaction?
After receiving the order of your monarch (well, the criminals are like poppies, just unload the castles where they settled) you can buy a few units in the castle, or throw a short chat with the king. There's not much to offer outside, but who would expect anything more? On a total of four game environments (levels), which represent a few islands and water, you can go to the city (buying a ship, siege weapons, some information), explore the environment and search for treasures, and of course buy units. In about four settlements - Plains, Dungeon, Forest, Hill (perhaps I did not forget anything) you will find needles with forks (yes, peasanti), classic skeletons, zombies, sprites, or muscularly throwing boulders (yes, in Heroes Cyclops) and there are also dragons.
To the fight!
You can seduce them not only with the above-mentioned throat-cutters in castles, but also with so-called followers who do honor to their name. And so that if they have you in their field of view (we are in 2D - about 3 squares), they hold you like a lord ... er .. like ticks. However, the fights are still the same, only with better units.
About 2.5 hours
You may have finished the game in this time. You can achieve this by killing all the criminals (I personally failed, try to fight from 50 dragons, which is proportional to KB DOST), or dig up the treasure (easier). As I said, you will find treasures on the map. In addition, the so-called scepters, which will reveal a puzzle map ala Heroes.
Given the time I was able to spend as a minor in this game (and therefore to the repeatability) I would rate the game 90% 
Reviewed by

Anonym – 1. april 2014
User reviews
There are no reviews yet, be the first to review this game!