Dizzy: Prince of the Yolkfolk
DOS game, 1991
Genre:

Year:

Developer:

Publisher:

Perspective:

Theme: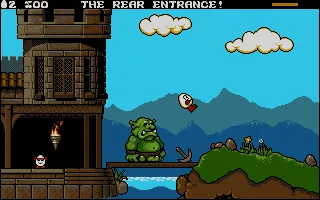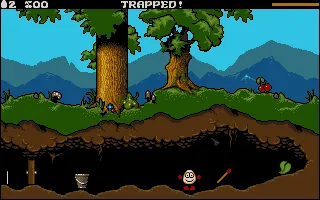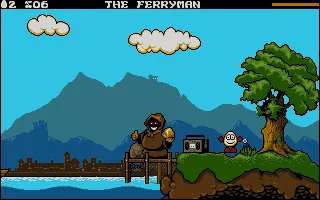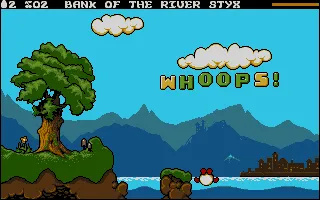 Rockwart the Troll has cast a spell on Daisy, leaving her asleep for 100 years. Dizzy sets off to put this right in a compact and concise arcade adventure following the conventions of the Dizzy series. You start the game trapped underground, thanks to the results of an errant spell, but can find your way out to explore the castle and find Daisy. There are stars to collect along the way, as well as food to replenish energy lost in contact with the many hazards. Succeed and you and Daisy will ride off into the sunset together.
Game review
Um ... There was an egg on the hike. The end. Even so, Dizzy can work for the uninitiated. It's hard to believe at first glance, but this game has become iconic and co-creates a historic mainstream of adventure games. The Dizzy in question originated in the year 1986. Someone in Codemasters must have been inventing a hero for a new game for too long, or his term was on fire, I can't explain how the obscure idea of ​​reviving an egg could be born, get his limbs, face and hat and send him to save the world. However, Dizzy didn't do anything about reality, and as the years went by, 15 (in fifteen) Indiana Egg adventures gradually came out, and on the only fanite I visited to clarify the information, I found 29 mutations or a continuation of the game from fans. Over time, it may seem childish to roll an egg around a fairyland and help its inhabitants, but many tens of thousands of people have the opposite opinion. Let's see why:
Technical side (Eggus Columbus): It clearly only helped Dizzy. Precisely designed graphics (nice, colorful, detailed), accurate music, good gameplay and set difficulty from all sides support a relaxing, but not boring adventure. I remember that when I played Dizzy (1990) on my C64, it was one of 2-3 games that managed to 'bite' me and not let go until I finished them. Dizzy belongs to the so-called 'One-offs' - this means that you start the game, you have several lives, and when you pass them, game over, reload them. No SAVE, waypoints, help, nothing. Play as you know. Dizzy actually led me to hardcore gambling ...
The story is clear - the evil wizard Zaks has kidnapped your sweetheart (-.-) and you have to fix it. Of course, he wouldn't have been a certified evil wizard if he hadn't done at least a little annoyance to every resident of Yolkfolk. However, this plays into your carat, because for the correction of mischief, the inhabitants will do you a maid or give you an object. But in addition to adventure, Dizzy is a platformer. Many times you need to skip something and not get bored (don't lose your life), which keeps you constantly alert even for trivial tasks.
The whole game can be completed (if you already know what is where and what) in 20 minutes, but for the first time it will definitely be more hours. In Dizzym, gamebuilding was still in its infancy, so logical thinking can be replaced by perseverance or the all-in-all method. However, since the game is still intended primarily for younger students, they can at least correct it with diligence, which they do not know otherwise. Overall, Dizzy is excellent compared to similar games, and this is the ultimate reason why eggs with a hat line up with Guybrush Threepwood, Indiana Jones, Doralica or Brandon. 
Reviewed by

Anonym – 1. april 2014
User reviews
There are no reviews yet, be the first to review this game!