Bubble Bobble
DOS game, 1988
Genre:

Year:

Developer:

Publisher:

Perspective:

Theme: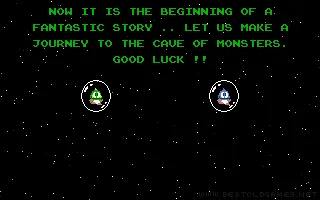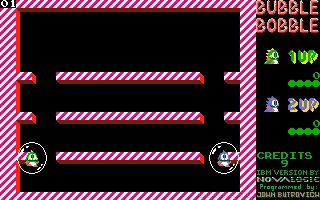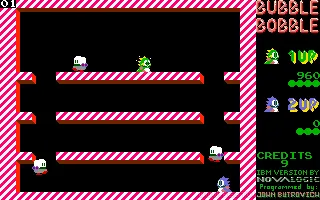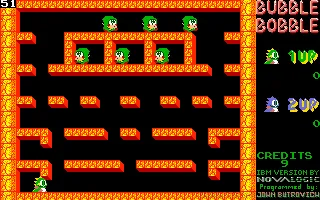 Although it may not look like from the screenshots, this game is the story about two humans - friends Bub and Bob. When walking in the woods, they went into mysterious cave and are miraculously transformed into two small dinosaurs. The only way to be transformed back into human form is to overcome all obstacles and pitfalls and reach the end of the cave. Bubble Bobble is a nice arcade platform game designed for two players - one controls Bub and the other Bob. To go further, you need to get rid of all the enemies in each level. Your bubbles are a powerful weapon which you can create and use them as a platform, or imprison enemies in them.
Game review
No review yet. We are working very hard to write one for you.
You can help us by writing some cool user review for this game.
Comments
Below are the most recent comments. Discuss this game in our forum to see all of them.
Helping you make profits daily in Forex trading
Using our signals and trading tool https://fnforex1.com/
ABOUT US: FNFOREX LTD a team of professional and successful traders with more than 6 years' experience trading on the foreign exchange market to help retail traders makes profits daily in the financial market https://fnforex1.com/about-us/
OUR SER SERVICE TO HELP YOU MAKE PROFTS DAILY https://fnforex1.com/services/
OUR SIGNAL HISTORY https://fnforex1.com/signal-history/
CONTACT US https://fnforex1.com/contact/
ABOUT US: FNFOREX is a professional forex trader with over 5 years of experience trading the foreign exchange market. Presently teaching forex, programming of forex robots and indicators. We scan the markets 24/7 every single day
As Super Mario, you must navigate the Mushroom Kingdom. Defeat the dangerous mushrooms along the way, and finally save the princess from the game's main nemesis, Bowser.
User reviews
There are no reviews yet, be the first to review this game!