Dangerous Dave
DOS game, 1990
Genre:

Year:

Developer:

Publisher:

Perspective:

Theme: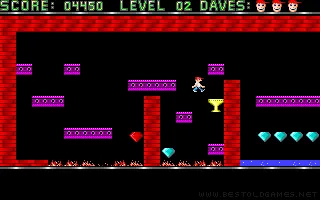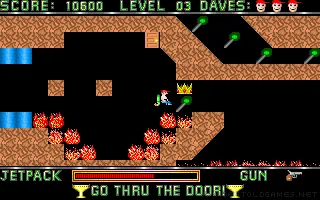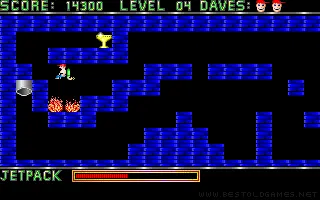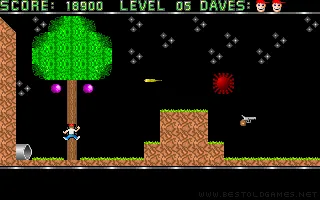 It is a simple game, but in some respects very tricky one, in which you must jump over "only" ten levels. The objective of each level is to get a cup and go through the door, and along the way you can collect a bounty of items with different points. After the first two rounds would hardly anyone would saw what the game is leading to. From peaceful bouncing on platforms, the game suddenly becomes nerve-wracking overcome pitfalls, where each mistake means death.
Game review
A simple but in some respects very insidious game in which you have to skip "only" ten levels. The goal of each level is to get a cup and go through the door, while you can collect a number of items with different points along the way. the game will write your highscore after the game, the points are also used to gain more and in this game so much needed life (LIF), so collect :).
After the first two rounds, it would be difficult for anyone to predict what the game would go wrong with.
OK, let's just say it's still manageable, but what if there are enemies or the need to find and use a jetpack? So nice, the enemies are still moving along the same routes, but the problem is that they are fast and sometimes shoot in addition (either randomly or at intervals). You have to take a gun to eliminate them, but it's also not ubiquitous, so you in some cases there is nothing left but to make a kamikaze and sacrifice one's life, which is not very conceited by the developers. And now jetpack (controlled by Altea), if it occurs at a given level, it is necessary to get it, because it's the only way to complete the level. However, you must not waste using it, because you will run out of fuel and if you run out, nothing will help you, so be careful.
The very craziest thing is imaginary floors, they occur in the last rounds and if you are not attentive enough (like me) the game will seem practically unheatable.
It is also worth mentioning that there is one bonus level and a few shortcuts in the game, they will help completely, but it is necessary to find them. 
Reviewed by

Anonym – 1. april 2014
User reviews
There are no reviews yet, be the first to review this game!