Star Control II
DOS game, 1992
Genre:

Year:

Developer:

Publisher:

Perspective:

Theme: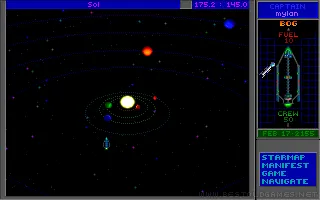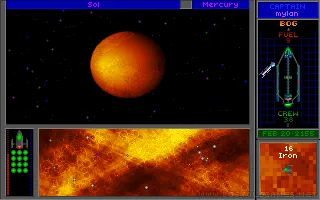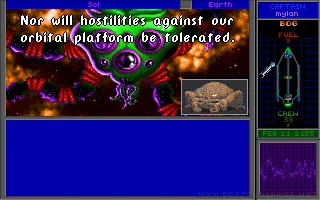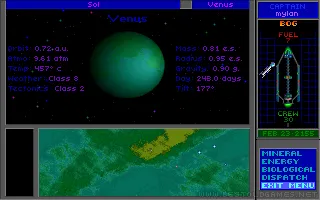 There are games in which you know quite clearly their gaming genre and there are hybrids that combine multiple gaming genres in one. One of those hybrid games is a game named Star Control II, which was released as open source under the name The Ur-Quan Masters. The game combines elements of strategy, adventure, action games and is based on space exploration, space battles and customization of your space ship. You play the role of a space ship captain and so you have to control your spaceship, discover the nearby galaxies and come into contact with other alien civilizations. Every civilization requires a different approach and you have to achieved the partnership through diplomatic channels, trying to convice them to join you. The goal is to create the greatest alliance. On each planets you will find resources that you can use to refuel your ship and for other stuff.
Game review
No review yet. We are working very hard to write one for you.
You can help us by writing some cool user review for this game.
User reviews
Please register or log in to post a review.
Star Control II
Reviewed by MaxPower – 6. may 2021
Definitely worth playing. Only bad spot is very little replay value. You'll play it once and probably lose. Play a 2nd time and (based on what you learned the first run thru) win but then, unless you really enjoy the ship to ship battles, won't be interested in a 3rd or 4th game. …more
Game pros:

- Long game w/huge universe to explore
- Ahead of it's time
- Unique mix of action, roleplay, strategy, etc.
- FREE?!? What are you waiting for?
Game cons:

- Kind of like a great book or movie. Once you've seen it it's never the same twice. Sure, you might watch it again, but when you know Bruce Willis is a ghost.....meh.
- Repetitive game elements but this probably won't annoy you unless you're on your 3rd or 4th run through the game.