Mario Teaches Typing
DOS game, 1992
Genre:

Year:

Developer:

Publisher:

Perspective:

Theme: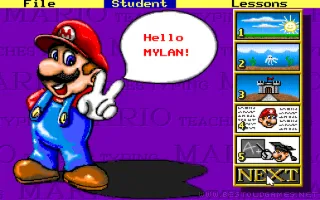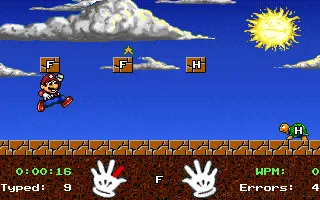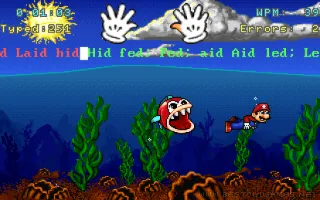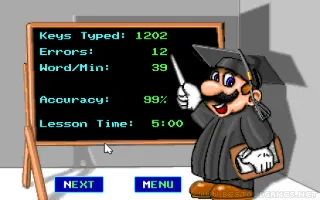 Teaching through the game is definitely the best form of teaching, because you learn something and have fun at the same time. Mario Teaches Typing is exactly that form of teaching - a fun way to learn how to type on a keyboard. At the beginning you create a new student and choose a difficulty (from the lightest, which represents Mario, Luigi represented by the middle through to the most difficult level- Princess). At each level there are 4 typing games: Mario's Smash & Dash - press letters labeled on the obstacles and help your character overcome them; Mario's Wet World Challenge - with typing whole words you help your character to swim faster from the hungry sea monster; Mario's Tunnel Of Doom - you have to write the whole sentences to help Mario overcome underground obstacles; Mario's Expert Express - retype full paragraphs under the Mario's supervision. The game is really fun and I highly recommend it for all kids.
Game review
No review yet. We are working very hard to write one for you.
You can help us by writing some cool user review for this game.
Comments
Below are the most recent comments. Discuss this game in our forum to see all of them.
Helping you make profits daily in Forex trading
Using our signals and trading tool https://fnforex1.com/
ABOUT US: FNFOREX LTD a team of professional and successful traders with more than 6 years' experience trading on the foreign exchange market to help retail traders makes profits daily in the financial market https://fnforex1.com/about-us/
OUR SER SERVICE TO HELP YOU MAKE PROFTS DAILY https://fnforex1.com/services/
OUR SIGNAL HISTORY https://fnforex1.com/signal-history/
CONTACT US https://fnforex1.com/contact/
ABOUT US: FNFOREX is a professional forex trader with over 5 years of experience trading the foreign exchange market. Presently teaching forex, programming of forex robots and indicators. We scan the markets 24/7 every single day
While Mario Teaches Typing is a classic, my mind is currently more focused on kitchen renovation Toronto. However, it's a great nostalgia trip for anyone wanting to improve their typing skills. But if you're in the Toronto area and planning a kitchen renovation, be sure to check out some local experts!
User reviews
There are no reviews yet, be the first to review this game!