The Lion King
DOS game, 1994
Genre:

Year:

Developer:

Publisher:

Perspective:

Theme: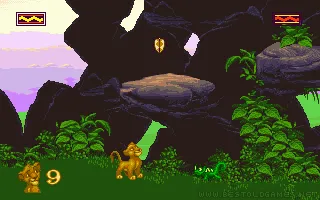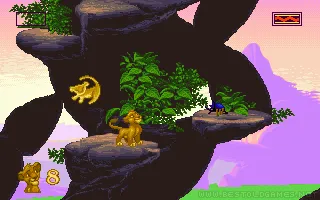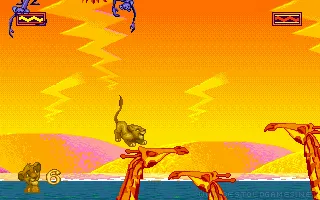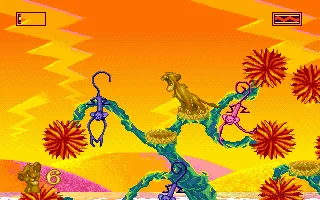 Who does not know the story of a small lion named Simba? In the beautiful African desert, Lion King Mufasa rules with a fair hand. And Mufasa, as a proper king has a son - Simba. Unfortunately it also has a brother, Scar, an evil one. In every royal family, there can be found someone, who is a bad guy and this is Scar's role it this story. Between him and the throne is in fact a little Simba, but he wants the throne badly. One day Scar guides Simba to visit the forbidden elephant graveyard, which is dominated by hyenas, and together with a friend Nalo Simba get into troubles and Scar is beginning to celebrate his victory to become next king. Although it did not work this time, it will work eventually and Simba will get into deeper troubles. And other times it was close... As you surely understand, in this game you play as a small Simba, who must go through 10 levels, overcome a number of obstacles and beat his uncle to became one true Lion King. It is one of the best DOS games we've played in our childhood.
Game review
Who doesn't know the story of a little lion cub named Simba?
Beautiful Africa is ruled by the just lion king Mufasa. And Mufasa, as the right king, has a son - the heir to the throne - Simba. Unfortunately, he also has a brother, Scara. There is a negative in every royal family and here it is Scar. Between him and the throne is a little Simba. One day, the traitorous Scar leads Simba to visit the elephant cemetery. However, the elephant cemetery is dominated by hyenas. Together with his friend Nala, they get into difficult problems and Scar already has my hands on me. Fortunately, King Mustafa struck (at the last minute, of course). It didn't work out this time, it will work out another time. And other times it was approaching ...
A wild herd led by hyenas is another deadly trap for Simba. Once again, it hits Mustafa and Simba doesn't turn into a greasy stain stomped on the ground. However, in a desperate rescue operation, with the generous contribution of his thriving brother, Mustafa is killed. Little Simba is scared and frightened. His only support is his treacherous uncle, who convinces the simba that only he is responsible for his father's death. And the only right solution is to flee ...
Simba fled and Scar became king. While Simba wanders and regrets herself, the kingdom is decimated by scar-dominated hyenas. However, Simba does not know this, so far he has made new friends, namely Timon and Pumbuu, and in the spirit of their carefree philosophy Hakuna Matata is slowly growing up. Until one evening, Simba sees her father in the starry sky. They realize what happened then and now the only right solution is different. The lion's blood, let alone the king's, awoke and Simba set out. He set out to settle. He set out to take revenge ....
And now for your own game. Your task is to go through ten levels and in the last one to deal with your uncle. In those ten lions, you will have to react promptly and sometimes even think. And, of course, remember something, but more on that ... The game accompanies you through the whole story, from a little lion to a stout lion. Like a little lion, you ride, for example, on the water (Hakuna Matata level - my favorite), you ride an ostrich (here you remember. intelligently he bumps his head against a branch ...). And like a lion with a fresh mane, you fight hyenas, cheetahs and finally Scar. Of course, even little Simba can fight, quite cute is how he can shout But back to the fight. Of course, you don't have any weapons comparable to doom, for example, but even such a lion's paw is quite a striking weapon. It's good to learn certain combos, different combinations of jumps, crouches and punches, because ... well, who would want to die, right?
The game has very trivial controls, nice graphics and great sounds. Music fits all levels. Classic game for children.
So I can highly recommend the game, I spent more than one moment on it. And I don't regret it ... 
Reviewed by

Anonym – 1. april 2014
User reviews
There are no reviews yet, be the first to review this game!