Klax
DOS game, 1990
Genre:

Year:

Developer:

Publisher:

Perspective:

Theme: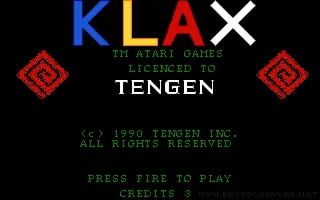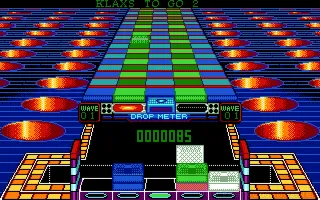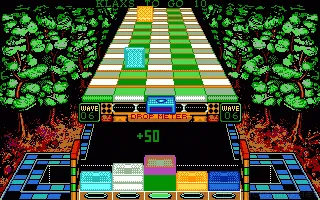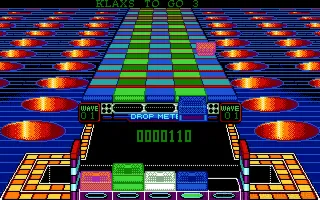 Klax features a conveyor belt at the top of the screen. It constantly rolls toward the playing area, delivering a steady supply of blocks. The player controls a small device which sits at the interface between the conveyor belt and the playing area, which can be moved left and right to catch the blocks and deposit them either in the playing area (which can hold 25 blocks in a 5X5 arrangement) or push them back up the conveyor belt. The device can hold up to five blocks. An uncaught block is considered a "drop". A flashing block can be used as a wildcard on any colour. In the playing area, blocks can be eliminated by arranging three or more of the same color into a continuous line, known as a "Klax." The line may be horizontal, vertical, or diagonal. A multiple grouping (e.g., one vertical and horizontal) counts as multiple Klaxes, as do Klaxes of four same-colored blocks (two Klaxes) or five same-colored blocks (three Klaxes).
Klax consists of 100 levels grouped into blocks of five. At the beginning of the game and after each fifth level (levels divisible by five, except for Levels 95 and 100), a player can choose to skip five or ten levels. Skipping levels gives bonus points and a higher drop allowance. The game ends when the player either exhausts their drop allowance, fills up their playing area, or finishes level 100.
Game review
No review yet. We are working very hard to write one for you.
You can help us by writing some cool user review for this game.
User reviews
There are no reviews yet, be the first to review this game!