Fallout
Windows game, 1997
Genre:

Year:

Developer:

Publisher:

Perspective:

Theme: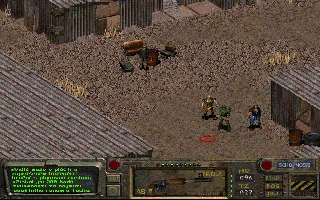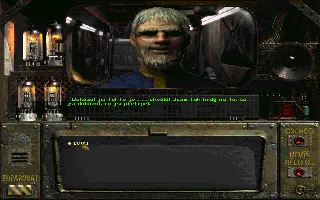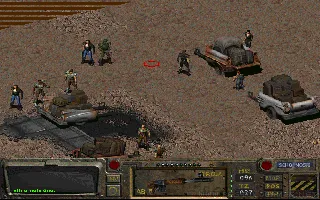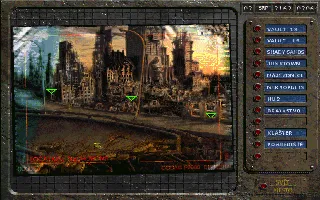 It is very difficult to write a short (really short) description about one of the most successful role-playing games in computer history, introduced with the tagline "Post-Nuclear Role-Playing Game": Fallout. The game begins with a very impressive intro that briefly shows you the history and the starting points of the game. You will take a look at changing 50-ies: from various scientific researches to the explosion of nuclear bombs in the '60s. With a bomb blast, the story of Fallout begins: nuclear bunkers had only very limited capacity, so only half of the human race survived. You, in the role of the main character, were born after the explosion of the atomic bomb, and yet you have never seen a post-nuclear, outer world yet. Now, the people of your shelter (Vault 13) are facing a new challenge. A chip that produced drinking water is out of the service and so your bunker does not have source of the clean water. You have been chosen as the one that has to resolve the situation, find your way through the unknown wilderness to another shelter and find a suitable replacement. Otherwise all the people in your Vault are gonna die soon, so you must hurry. Soon after you leave the Vault, you will find that it will not be a walk in the park, but you have to deal with the danger of the new world and face various monsters that live out there (huge rats, mutated scorpions, and all other creatures that has survived the atomic blast).
Game review
No review yet. We are working very hard to write one for you.
You can help us by writing some cool user review for this game.
Comments
Below are the most recent comments. Discuss this game in our forum to see all of them.
Fallout is on sale at GOG. But here is a free download.
I mean for sale on GOG, so it shouldn't be here for free.
User reviews
Please register or log in to post a review.
Fallout, where it all started
Reviewed by elderearing – 6. may 2021
I'm sure many folks are aware of Fallout 3, Vegas, 4, etc. Although this game might be considered primitive by comparison......well this is best OLD games, so what did you expect? …more
I played this game back when it first came out and have to say it was one of the most impressive and engrossing games I'd ever played. If you are a fan of the Fallout series you should play this game...especially since it's free! Although the gameplay is not first person it does contain a lot of the elements that still exist in today's Fallout games (sandbox, character creation/development, PIP boy, etc.)
As with most older theme/story based roleplaying games replay ability is lower. Unless you like going back and looking under every rock, or perhaps playing the bad guy the 2nd go around (this seemed to work better in Fallout 2). That being said, this game is worth playing. The turn-based hex map style of combat is similar to Jagged Alliance 2.