Wolf
DOS game, 1994
Genre:

Year:

Developer:

Publisher:

Perspective:

Theme: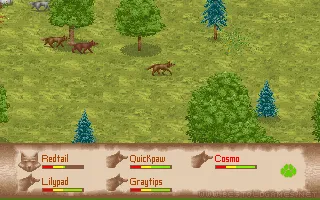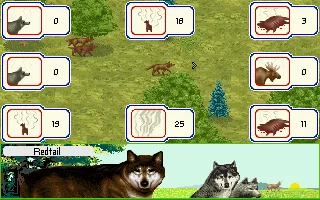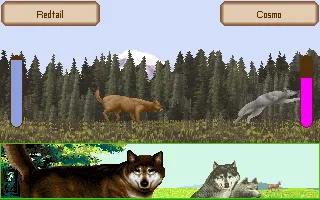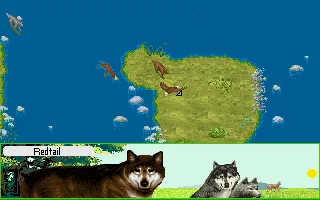 Animals are often the main characters of computer games, but in most cases they occur as a comicbook characters, who can walk like a man and many times even speak. German game Wolf, however, is different. They have created aa life simulator of a wolf in the woods and in my opinion it is a very good simulator. At the beginning of the game you have to choose one of the 3 environments in which you move like a wolf: Arctic (snowy area), Timber (forest area) and Plains. The choice of the area is very important also for the race of your wolf, because each area has its own characteristics (in the forest you won't run into a bison and on the plains you won't meet a deer). After selecting your wolf pack (there are 40 different wolves you can choose from) you can get to an actual gameplay. You control the wolf pack leader and you have to make everything your wolves need an depend on their senses. You start searching for food with using their sense of smell, with that the wolf shall determine the direction and distance to food (or the cute animals you have to kill to survive). You should hunt for food very often, because when hunting, physical condition is very important and for hungry wolf it will be harder to catch up his prey. Besides ensuring food, you have to defend against other pitfalls (for example, to resist attacks from hunters, or when a member wants to replace you as the pack leader). If you like nature and care about animal life, you will definitely like this game, like I did.
Game review
No review yet. We are working very hard to write one for you.
You can help us by writing some cool user review for this game.
User reviews
There are no reviews yet, be the first to review this game!