Warcraft II: Tides of Darkness
DOS game, 1995
Genre:

Year:

Developer:

Publisher:

Perspective:

Theme: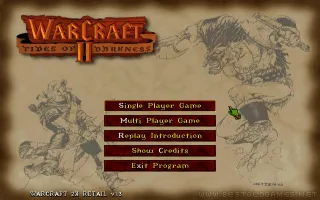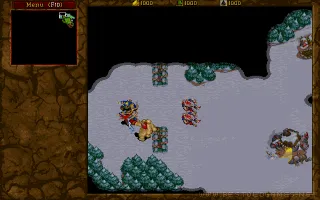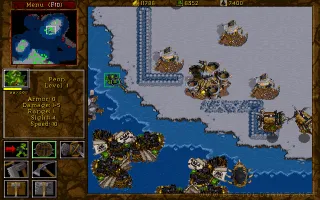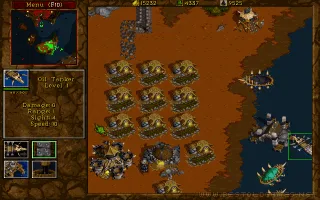 Warcraft is now a legend in the world of video games and the very first episode of this series was also very successful, it was only natural that two years later the sequel came. Warcraft II: Tides of Darkness, which was famous even more and helped Blizzard into the elite class developers. It should be noted that Blizzard has never had a bad hand in the selection of games they publish and every game they published was always a hit. Warcraft 2 is not about story, the story line is quite simple, and through the campaign it fades into the background. There two races fighting each other: humans and aggressive Orcs, who have decided they want to rule in the kingdom of Azeroth. Warcraft 2 offers a total of two campaigns, one for each side. Both missions are exactly the same, the only difference is the race you are fighting for, which of course does not mean that you would be bored: new mission, a new problem.
Game review
It's been a long time since we've welcomed one of the first and best real-time strategies - Warcraft is a real concept today. In 1996, a sequel was released, which surpassed the first part in many ways and elevated the company Blizzard, which has all this beauty to blame, among the game cream, which has not stumbled even once and released a bad title. Somehow, however, we forgot about the perfect fantasy strategy of Warcraft 2: Tides Of Darkness. But the mistake is fixed and you can remember one of the best real-time strategies that has ever come out.
Warcraft 2 definitely does not base its qualities on a well-thought-out story - the storyline is quite simple and recedes into the background throughout the campaign. Everyone simply suffers with the fact that Ludi is fighting against the aggressive Orcs, who have a penchant for the kingdom of Azeroth. Warcraft 2 offers a total of two moves, one for each side. The missions are very similar for both races, which of course does not mean that you will be bored. What a new mission, what a new problem. The first scenarios are a matter of a few tens of minutes, but from that fifth sixth mission the difficulty increases drastically. In addition, it is necessary to think about three raw materials - wood and gold from the first part remained and added oil, which is not suitable for medieval brave knights, in addition, it enriches the game so much that Warcraft 2 is perhaps impossible to imagine without it. I personally remember the demo version of Warcraft2, where even stones were mined, but fortunately BLIZZARD withdrew from this raw material in the final version of the game.
The basis of everything in Warcraft 2 are weak and peace-loving workers (if you want farmers or workers). Such a fighter will not take part in the fight (although he can, but he is not physically and armedly prepared for it - that is why the biggest massacres take place when killing enemy workers), but without him the empire would not work at all. The worker ravages the landscape by cutting down trees, the wood of which is suitable for building buildings, and also cupping into a mine, where he disappears for a while and then heads to the castle with a bag of gold on his back. Needless to say, he is the only one who can build and repair all the buildings. To prevent workers from prosecuting absolutely everything, oil tankers extract oil from the sea.
Basically, the game is otherwise a Warcraft 2 real-time strategy like any other. In the barracks, knights, archers and who knows what else for a certain number of units of gold. All units can be upgraded with shields, weapons, taught them new spells, simply made them even bigger toughs and better fighters. They all have a few RPG attributes, which could mean that the dolls are improving with increasing experience, but the reality is different. RPG attributes only express how many times a unit has been upgraded or how many spells it knows. Farms grow food that satisfies the hungry necks of warriors, and the principle - the more farms you have, the more units you can have - this is taken over by a game as famous as Age of Empires, but the farms are replaced by huts.
Unlike its older brother, Warcraft 2 also expanded the wars to the sea level, which is waded by warships, and the airspace, which in turn is the territory of dragons and gryphon riders. New strategic possibilities are associated with the addition of these innovations - for example, it is good to bomb coastal towers with warships, in order to open the way for the landing of ground troops and they subsequently carry out a rapid raid on the enemy village. But if the enemy has a larger and stronger army, all you have to do is put your feet on your shoulders, preferably in transport ships, and flee. In addition, it is possible to lure enemy units to the coast, which warships can easily devastate with their cannons, and in this situation will make defenseless infantry and a huge filling into the pate. But if a ballista arrives (a catapult for the Orcs), the situation reverses and the sailors have to pour water and sew the sails.
In Warcraft 2 we can meet about thirty units, the difference between the human and orc is not quite large. Although the units look different and speak differently, they are still the same soldier (or ship or machine) with a different name. For example, humans have an elf archer, and orcs have an ax-throwing troll. Their characteristics and use in combat are, of course, exactly the same. And so it is with all units, with one exception being spells. While a paladin can look at any place on the map for a moment, an orcish-magician can conjure up a flying eye that is suitable for exploring the map. And the purebred mages have a completely different repertoire of kuzil than their orcish opponents, the dead knights. Otherwise, the palette of units is well thought out and except for an ordinary pawn, which will later be replaced in the game by a knight and a dwarf kamikaze (for Orcs Goblins), it is necessary to use all units. The knight crushes enemy units up close, the archers sprinkle their enemies from a distance with their fire, and in addition they deal with air units. With his long-range spears, the ballista destroys disgustingly strong defensive towers from a sufficiently large distance, and magicians with their spells will find application anywhere. We must not forget the reconnaissance gnome flying machines and several naval units. Hidden in this is the genius (which Blizzard demonstrated in a few years in StarCraft) Warcraft2. Without using all the units and their mutual cooperation, you will burn quickly. Of course, this uses a computer that does not affect much intelligence, but often catches you on plums. If you have a large group of archers, an upset Ogre will run up and push them into the ground. And if you dude with an invincible group of ten knights, you can bet that the dragons will fly and roast the knights with their fiery breath in gold. Well, Blizzard just made it up with the units.
In addition, Warcraft 2 has written somewhat fabulous graphics since the competition at the time, but the graphics are totally great and fully in SVGA, with which the better competition - Westwood and its Command & Conquer - came a few months later in Command & Conquer: Red Alert. In addition, Redalert's SVGA graphics practically didn't work at all, and the game crashed, froze, and did all sorts of dog tricks. Warcraft 2 is simply a bit ahead of its time with its graphic design. I wish they didn't. Thanks to the great graphics, the fantasy atmosphere of the game is raining down and, for example, knights, giants and human warships look great. We must also not forget the excellent announcements of some units and the sympathetic voices of the Orcs. You may remember at least a few moments today, as well as the old familiar cheats - for example, "glittering prizes" and "on screen" have been forgotten by few. Blizzard even added a user-friendly map editor to the game, thanks to which everyone could create a map according to their taste, and then play with friends, for example - Warcraft multiplayer is, like the whole game, great. Who played multiplayer will understand and who will never feel the feeling when a friend without his knowledge of the cantra of defenseless workers, or you cut off the path he just needs. Such a feeling of bliss is simply indescribable and who played multiplayer will certainly confirm it.
All these pros are great, it must be said that in the end they mean only one thing - Warcraft 2 plays extremely well. Warcraft 2 affects the gameplay, which does not decline even after weeks and weeks of constant play. (verified)
  award the best game of the year
  "The best RTS of all time." (MegaBit magazine)
  The highest ratings of all gaming magazines.
Either way, Warcraft 2 is a huge legend that deserves its place in the Classic without a doubt. 
Reviewed by

Anonym – 1. april 2014
User reviews
There are no reviews yet, be the first to review this game!