Strip Poker 3
DOS game, 1991
Genre:

Year:

Developer:

Publisher:

Perspective:

Theme: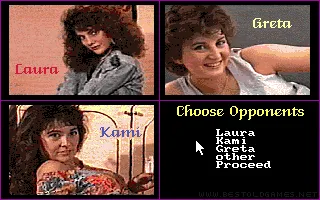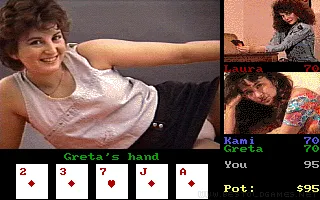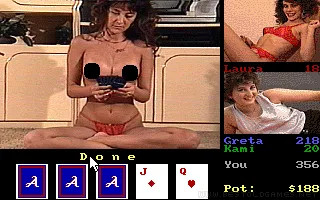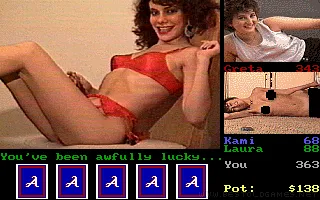 In the early 90s many boys played this game for hours, just to get the woman players completely undress. Strip Poker 3 is the third part in the game series by Artworx Software and I must say, it was very successful. At that time it had offered a high quality VGA pictures of girls, against whom you play poker and you try to get them naked. At the same time you can play against 3 girls and each of them play poker differently. Kami is the least skilled poker player and if you played poker few times, it should only take few minutes to get her naked. Laura plays poker at an average level - quite easily you can tak first money from her, but it gets harder to take them all. Greta is the best poker player of them and it is very difficult to win over her - beware: if Greta bets high amount, it means that she has a very good hand with high cards. The game is done quite funny, if you start losing, girls will command you to put your clothes away and slowly get naked yourself. :)
Game review
No review yet. We are working very hard to write one for you.
You can help us by writing some cool user review for this game.
Comments
Below are the most recent comments. Discuss this game in our forum to see all of them.
Hello, you should follow the lessons and competitions if you want to fully maximize your gaming abilities. Personally, I choose https://cardmates.org/ because it's the top online poker resource. If you put a lot of effort into improving the quality of your games, I believe you will succeed greatly.
I consider, that poker needs talent, and of course luck. I prefer less risky activites, as binary options trading. If you are interested in it too, you can start even with binary trading minimum deposit. That's a good chance!
User reviews
There are no reviews yet, be the first to review this game!