Harry Potter and the Sorcerer's Stone
Windows game, 2001
Genre:

Year:

Developer:

Publisher:

Perspective:

Theme: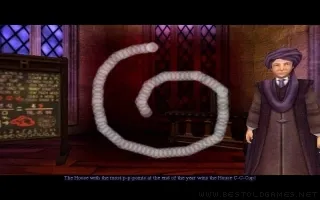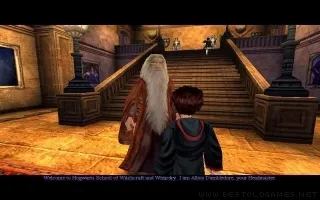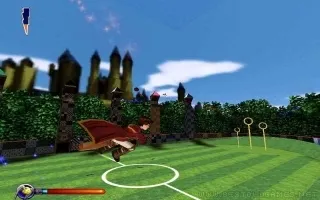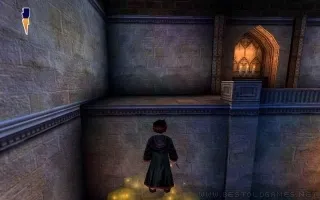 Harry is a simple boy, an orphan whose parents were killed and left on the doorstep of his new parents. As the boy grows, he discovers that he is not ordinary and that he has some special abilities. He doesn't know why or how, but he gets turned on when the invitation to Hogwarts School of Witchcraft and Wizardry arrives. He decides to accept and travel to school. That's when you get into the game and let yourself be guided by the yet unknown world of magic.
As soon as you get to the school, you make friends and enemies and find out that the school is divided into two parts, good and bad. You get among the good ones and you gradually gain their respect and admiration with your skill. You go through hours of magic, from simply moving objects, unlocking locks with charms, levitating, shrinking things, animating things, to flying on a broomstick. Each hour has a vast maze of rooms where you have to use magic, look for magic stars and magic cards and collect some crystals. As for the obstacles, they are mostly a combination of skill and logic, where you have to press something and then jump over while you have to watch out for enemy ghosts, gigantic giants, or dangerous plants. So to put it somewhere, it's an arcade-like action, colored by a story, humor, magic and danger.
Game review
No review yet. We are working very hard to write one for you.
You can help us by writing some cool user review for this game.
Comments
Below are the most recent comments. Discuss this game in our forum to see all of them.
Hi friend. Perhaps you wondered where you can make themed socks? Socks are very good, an important part of style, many spend a very large fortune on socks from different companies, but I can tell you a great store find more info where you can buy socks in quality not worse than these and the more you can find there socks on any theme, because they are themed, low price and excellent quality speaks for itself.
Harry Potter is my favorite movie I watch all parts but Harry potter and the sorcerer's stone is my favorite part of all .by watching to many movies I don't have time to do my essay writing I always lost my essay writing deadline but then I found Biology Essay Help and all my essays from that
Get Power bi Training in Chennai with our certified professionals. Learn to create dashboards, reports, and data visualizations using the powerful tools of Power BI.
User reviews
There are no reviews yet, be the first to review this game!