Grand Theft Auto (GTA)
DOS game, 1997
Genre:

Year:

Developer:

Publisher:

Perspective:

Theme: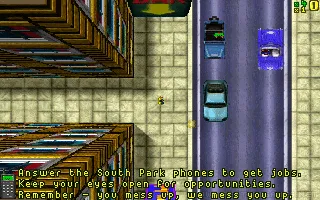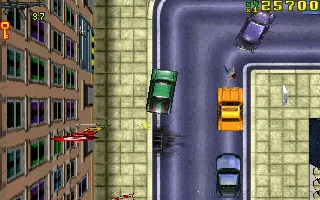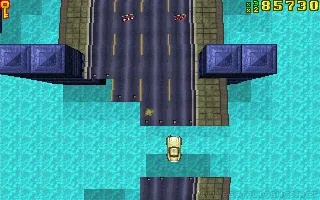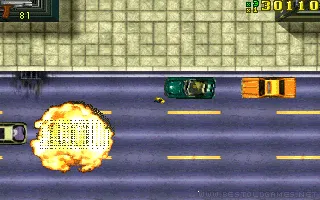 The year is 1997, and DMA Design released one of the best games ever. Best game? Innovative game? The original game? No, none of these terms fit to this game. The right word for this game is ... a legend. At the time DMA came with a revolutionary game Grand Theft Auto (for the general public, known as the GTA). This game is, in my opinion, been one of the most original, most entertaining and groundbreaking games. Hardly any title got five full sequels. The principle is simple: you walk around the city, steal cars, run over pedestrians, escape the cops - just a normal day, right? Although at first glance it may not look like the whole game is really fun.
Game review
It's 1997 and DMA Design (hereafter DMA) is releasing one of the best games? The best game? An innovative game? An original game? No, neither. The correct expression is ..... LEGEND.
At the time of the 486 machines, DMA came up with the revolutionary game The Grand Auto, known to the general gaming community as GTA. This game is, in my opinion, one of the most original, fun and revolutionary games so far. Few titles have received five full-fledged sequels. Perhaps except for the second part, which was the only one that did not reap what the first part planted, all parts of this series are literally trampled on by ideas.
** I get off the bus, as I do every day. I'm going for my favorite game timer (I know which one), so that I have something to read at school. He came out today, wondering what will be there. Hmmm ... bored, bored, bored. Grand Theft Auto? Wow, what's that graphics? **
Inflated graphics that take your breath away with their details. The extent and diversity of the game world, where you move freely. In addition to all this, an unusual view, which at that time only racing games tried (Iron Racer ... there were more of them, but I don't remember), a view from above. It was quite a nut for the CPU of that time.
** 98%? Well, I'm curious what the writers are eating there again. Hmmm, a huge unlimited game world? Different "approximators" in each location? Music in the car? Not possible...**
Yes. Is it true. 3 large cities, each different. Starting with unique buildings, cars and ending with different climatic conditions. With its "megalomania", it took the breath away of every player of that time. Other surprises will not be long in coming. You appear in the first city, you see a car in front of you. It all starts with the obligatory pressing of the ENTER button ......
**What? Car theft? This in turn will be bullshit, steal commute, loading and again with a cart of a different color .... **
The city is loaded once and then not again, which is another pioneering element of GTA, which is definitely not intended for small children. When the GTA stops entertaining you after a few hours of driving, shooting, stealing and I don't know what else, you will find that there is an arrow on your screen. It shows you where the missions are, in the form of ringing telephone booths. With its variety of tasks, GTA surpasses all games. From the mere, "drive from booth A to booth B in 20 seconds", "steal the XY car", to steal the tank! The list would be really long. The goal is to earn enough money for the game to open up another city for you and you will earn money by completing these tasks. If you complete all these "arrow" tasks and you do not have enough money for another city, do not despair. A suspicious-looking polished lambo (just an example!), Standing near the port, will surely prepare a surprise for you in the form of a mission (there are really a lot of missions). The list would be so long that I'll let you judge it, the player.
Possibility to get out of the car, walk to the intersection (it's not a problem to walk for 20 minutes!), Get in front of the car at the intersection and steal it, then cross the kindergarten going on the opposite sidewalk, or just "take off" them with a banger. That's what GTA makes to this day.
After such flights (many times even in missions), however, there is trouble with the police, who really do not get along with anything. The "adequacy" of their intervention is determined by the indicator at the top of the screen, which consists of the heads of police officers. From one police car to crowds of "front-loading" police officers. I've never been able to "survive" five cops in a pointer (you can lower the pointer by one star by finding a star). They also run out of cars, pull you out of the car and ... "Busted". When I saw this inscription, they took me to the mares. You have lost all weapons, unless you have the "key" you can find in cities. You can also die, you are limited to 4 lives per city (part of town). This brings me to the biggest negative of the game ....
** "Give me the magazine immediately, or you'll go to the headquarters!" she is adamant, bitch. "Please give it back to me, I'll never do it again (), faaakt". At least she gave it back to me, fat ass. Damn, where did I end up ... ahh. "At GTA, you sit for days, if not weeks, captivated by the expanse ....." **
Absence Save. In my opinion, the only real, big minus (unless you have cheats that will open all the parts to you). The game is saved only after passing a part of the city (three in each), which you can then repeat as you wish. Parts of the cities also take hours of play. It really sucks when a grandmother you haven't seen in 2 years arrives and you have to be with her, while your father yells at you "why don't you turn off the computer? Do you know how much we're going to pay for electricity?". These are then hours of playing in the "anus".
** I get off the bus, like every day ..... he fell asleep here in the bus. I can't put it to sleep for 3 weeks 4 hours a day ... **
The arsenal of both "approach" and weapons is huge. About twenty motor vehicles with different driving characteristics and endurance (the van lasts longer than a sports car, but it is slower and too "wide" in corners). From the most common sedans, through sports cars, vans, trucks, police cars, tanks to motorcycles (unseen at the time). All "carts" are destructible, both by careless riding (walls of houses, trees, other cars, etc ...) and by shooting into it (if you are sitting in the car, it is the biggest hobby of police officers). Have you ever driven a train or a school bus? No? You can try it in GTA, especially the trains are very fun .... but enjoy it yourself.
There are enough weapons in the GTA. Starting with the obligatory pistol, ending with the flamethrower. Weapons are located on the streets in various places (the farther the corner, the bigger the cannon here). Another specialty is KILL FRENZEE. Skull icons can be found in various parts of the city. After collecting, there is a fun that no one has experienced before !! You have a weapon that is always different and your task is to kill a certain number of people (destroy cars) in a certain time. With the endless bullets you have at KILL FRENZE, it may seem funny, but the cops are of a different opinion ....
Experience real graphic orgies in GTA. Sophisticated cars, houses, roads, trees, just about everything. Your blood will spray from the monitor for another 14 days after the GTA is finished.
The sounds are very good. Music in the car, or a police walkie-talkie when you have a "mess". Police cars have their siren ..... What to supply?
** The holidays have finally started and I finished it, now what? I'll take it from the beginning of the second city ..... **
The controls are intuitive and you will get used to it very soon. You see bullets when firing, so this is not a problem either. For its time, a very good path finding when getting into cars. They should also learn the latest games.
** God, his two weren't worth anything. Finally there is a threesome .... **
I'm very happy to try to review this game. Thanks to DMA, for an immortal game where you will really spend hours of unceasing fun. I wish you a lot of fun, which I enjoyed 8 years ago, even now.
Bottom Line:
A LEGENDARY game with an idea that is original even after 8 years and has not yet been surpassed. GTA has become one of the breakthroughs of the gaming industry and the subject of various imitations. However, none managed to overcome the LEGEND. When Rockstar Games appeared in the gaming industry in 2001, a new phenomenon with the same name emerged. GRAND THEFT AUTO 3.
Have fun with the GTA phenomenon.
PS: I was 14 when I finished this game for the first time. The story with the grandmother and the school nipples are true. 
Reviewed by

Anonym – 1. april 2014
User reviews
There are no reviews yet, be the first to review this game!