Dungeon Master
DOS game, 1989
Genre:

Year:

Developer:

Publisher:

Perspective:

Theme: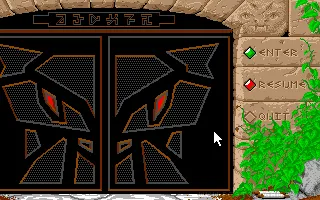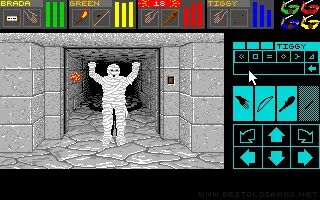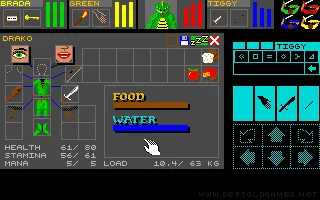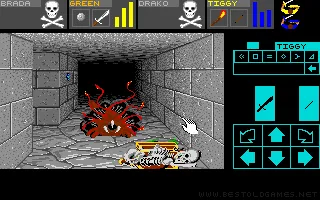 The point of the game is to reach the end and at the best survive. At the end awaits Chaos, so it succeeds only chosen (plus of course Neo). In the first level you choose 4 people (well, creatures). Of course you can say that you work hard (hard-ass) and go into it myself, but you only help funeral service to gain more profit. Choose carefully, it is best to have two fighters at the front and rear magicians. But your character will evolve as well so it's just whatever. On the first floor is the altar where you can put the bones of corpses friend died and appears again (it will come in handy, trust me) on the second floor (no relation was down, so the basement?) First battles await you. Mummies.
Game review
Who wouldn't know? A whole generation of players grew up on this game ... The first dungeon and one of the first models (from the word idol) of the game industry. At the time when Score monthly reigned and its legendary editors invaded the scene He ...
And now for the game, the point of the game is to get to the end and best survive. In the end, however, Chaos awaits you, so that only the chosen ones will succeed (of course, plus Neo). In the first level you choose 4 people (more like creatures). Of course, you can say that you are a tough guy (tough guy) and go for it yourself, but you will only help the funeral homes to make a profit. Choose carefully, it is best to have two warriors in front and magicians in the back. But your characters will develop anyway, so that's bullshit. There is an altar on the first floor, there you can put the bones of a corpse of a friend who died and it will reappear (it will come in handy, believe me) Mummy. And so on and on when you get to the worms (there are good fireballs for them) and to Chaos himself - you kill him with such a wand
Of course, it's not that simple, the biggest problem is probably the keys ... You are in level 10, for example, and suddenly you don't have a key - popularly speaking: a mess. Fortunately, one multifunctional staircase winds through all the floors (I suspect that one level / about 13? / Will be skipped and then you will return to it using this staircase). There are also a lot of things in the game that are nice, but I didn't come up with. (compass, rabbit paw ...)
I played the game mainly as a magician (charred mummies), but it can also be played as a warrior (chopped mummies). The most important thing is training. At every free moment, it is good to practice cuts, kicks, points, throws and punches just into space, because then you will not have to carry bones to the already mentioned altar ...
I can highly recommend ... 
Reviewed by

Anonym – 1. april 2014
User reviews
There are no reviews yet, be the first to review this game!