Dig Dug
DOS game, 1983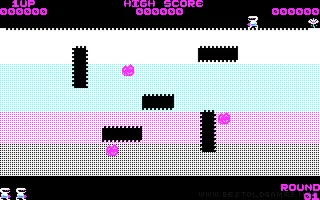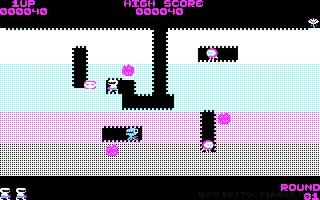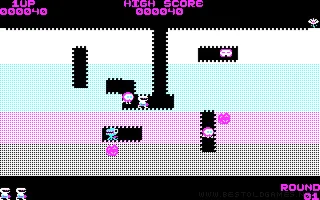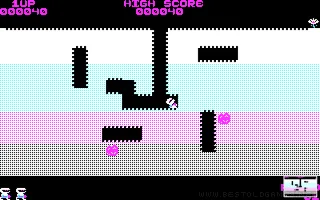 Dig Dug is an arcade game for 1 or 2 players, in which you control Dig Dug - a gardener protecting his field, which is attacked by two monsters Pooka (mutated mushroom) and Fygar (fire-breathing dragon). Pooka and Fygar are constantly chasing you underground and above the flower bed, while your only weapon against them is an air pump. You inflate the intruder until they burst (need to pump three times). If we do not finish inflating (1-2x pumping), the inflated monster will slowly burst and will continue to attack. There are stones in the underground that can be undermined and used to eliminate enemy monsters. If the monsters can't find us for a long time, they will turn into ghosts that are able to walk freely through the earth and will usually head the shortest way to us. If the monster hits a tunnel dug by us, it will change back into material form, which is the only form in which it is destructible.
As the number of levels increases (shown by the flowers in the upper right corner), the number of raiders increases and their speed increases rapidly. From time to time, vegetables appear in the middle of the garden, for which we collect bonus points after collecting. The game gained immense popularity at the time, as evidenced by the fact that it was released on almost all (21) gaming platforms (8-bit and 16-bit), as well as ports on the Xbox 360 and Wii consoles more than twenty years after its original release.
Game review
No review yet. We are working very hard to write one for you.
You can help us by writing some cool user review for this game.
User reviews
There are no reviews yet, be the first to review this game!