A.R.S.E.N.A.L Taste the Power
DOS game, 1997
Genre:

Year:

Developer:

Publisher:

Perspective:

Theme: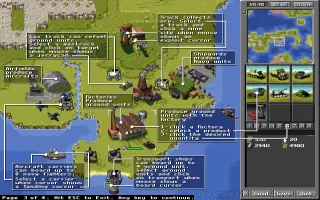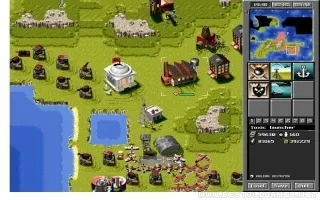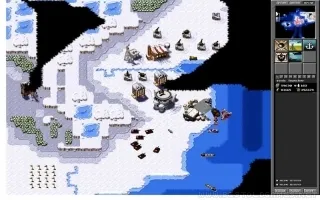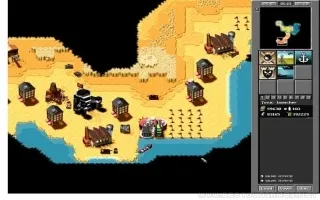 A.R.S.E.N.A.L is a shareware real-time strategy game that is in many aspects similar to Dune II and Command & Conquer. Gameplay elements include base construction, resource gathering and large-scale combat with ground, naval and air units. The game also introduces several unique elements to the genre: for example, all vehicles consume fuel, and the players need to maintain a supply network of gasoline trucks to keep their forces operational. Units also gain experience in combat, and this places an emphasis on micromanagement, encouraging the player to protect and repair damaged units, rather than rely on waves of expendable forces. The story of the tutorial and the campaigns is set in a fictional alternate history World War II where an alliance of European nations fights against Communist invasion. Custom games are played on randomly generated maps, with five factions available for play: Normo, Psycho, Shyzo, Parano and Fanato. Each faction, with the exception of Normo, has a unique special weapon, otherwise all of them share the same technology tree. In the custom game mode, it is possible to play with computer controlled allies, and also set alliances for computer players.
Game review
No review yet. We are working very hard to write one for you.
You can help us by writing some cool user review for this game.
Comments
Below are the most recent comments. Discuss this game in our forum to see all of them.
Salam uşaqlar, bilirsinizmi ümumiyyətlə slot maşınları oynamağa dəyərmi? Slot maşınlarını oynayarkən, onlayn oyunlarla müqayisə edilə bilməyən böyük bir həyəcan alırsınız, ona görə də sizə yalnız slot maşınları oynamağı məsləhət görərdim, amma yaxşı bir sayt tapmaq çox çətindir və mən bu işdə sizə kömək etməyə hazıram, bu sayta baxmalısınız, bu, ən yaxşıların ən yaxşısıdır, böyük oyun seçimi və keyfiyyətdir Betandreas AZ , buna görə də mütləq buraya gəlib oynamalısınız. Ümid edirəm tövsiyəm sizə kömək etdi.
(+237692925976)Powerful love spells lost love spell caster in Armenia, Australia, Austria,USA ,UK /CANADA & Europe
User reviews
There are no reviews yet, be the first to review this game!