Leisure Suit Larry
DOS game, 1987
Genre:

Year:

Developer:

Publisher:

Perspective:

Theme: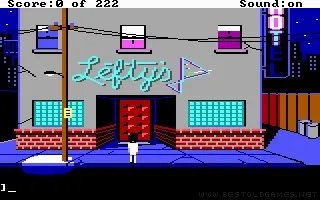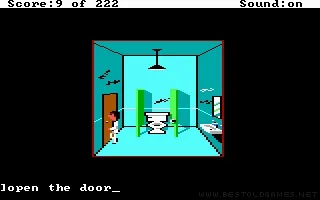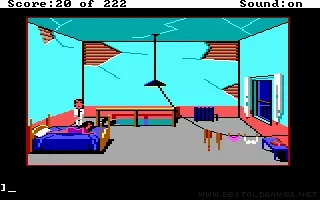 Erotic and humorous game that introduced us to an old young man who is memorable as the biggest loser (when speaking about women and girls). Please familiarize yourself, this is Larry... Larry Laffer. The first episode of Larry - Leisure Suit Larry in the Land of the Lounge Lizards can be included among the pioneers of graphic adventure games for the PC, so sounds and graphics are just basics. In other words: a lot of choppy graphics in a small window, reading so many colors, how many crayons a pupil in the eighth grade pencil case have and some graphical icons to use. Although this is a graphical adventure, you won't control Larry with graphical interface, but you have use commands like "take", "use" or "open" and type these commands into command line. English is therefore a necessary condition for playing this game, because without knowing the commands, you won't get far with Larry.
Game review
An erotic-humorously tuned game that brings us closer to the life vicissitudes of an old bachelor who became known to players as the biggest loser when it comes to women and girls. Please meet, this is Larry ... Larry Laffer.
Larry's first episode can be ranked among the pioneers of graphic adventures for the PC in general, which corresponds to both audiovisual processing and game interface. In other words: a very rough graphic in a small window counting as many colors as the crayon has an eighth grade student in a pencil case and instead of graphic icons or commands such as "take" or "use" you will be warmly welcomed with a command line. you enter entire commands. All this is amplified by the cacophony of sounds and melodies that flow to you from the PC speaker, whose only advantage is that they are really sparse, so they are on the verge of tolerability.
The plot of the game is as simple as a Brazilian soap opera and practically everything important is said in the first paragraph of this review, so we can look forward to the rest: the gameplay is pleasant, even for people who do not speak much English vocabulary. Thanks to the simplicity and straightforwardness of the story, Larry can be played with practically one breath, and at the moment when the breath occurs due to the language barrier, any pocket dictionary (assuming that he is English) will quickly help. The eroticism in the game is downright decent, so even puritanically based individuals will not collapse in terms of humor. they will elicit a smile or chuckle at you
What else to say? On the one hand we have before us a title which (as already outlined) "gets" you with its museum technical workmanship and simplicity, on the other hand Leisure Suit Larry is a unique title that presents before your esteemed eyes the beginning of graphic adventures, a game treasure that maps the dawn of history in its genre. Is it a difficult nostalgia for the people who were one of the first to play this title in the days of the flashing 286s, a duty of principle for fans and fans of abandonware games, and for the others? Try and see ... 
Reviewed by

Anonym – 1. april 2014
User reviews
There are no reviews yet, be the first to review this game!