Fatal Fury 3: Road to the Final Victory
Windows game, 1996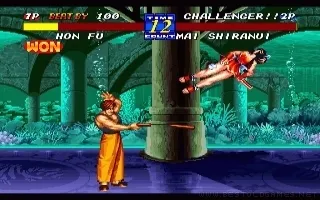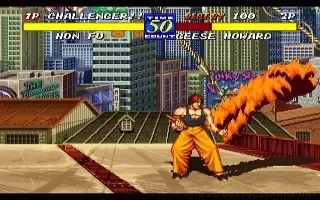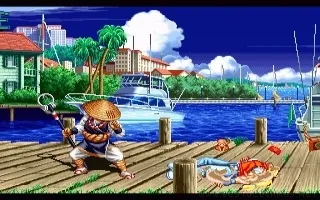 An adaptation of the Neo-Geo fighting game. 2-D scrolling one-on-one fighter with pseudo-3D aspects (that allows for players to "escape" holds, throws, and other attacks). Part of the incestuously-popular SNK fighting game pantheon... The story begins after three years have passed since Terry Bogard had defeated Wolfgang Krauser and won the second "King of Fighters" tournament. Ever since then, Terry has traveled throughout the world, meeting new friends and battling many opponents along the way. Upon returning home to South Town, Terry rendezvouses with his young brother Andy and his good friends Joe and Mai at the grand opening of the Pao Pao Cafe 2 that's being headed by Richard Meyer and his capoeira apprentice Bob Wilson. During the opening, Joe explains to Terry a disturbing rumor that he had gotten from Cheng Sinzan via a private message in that Geese Howard is supposedly alive, having survived his fatal fall from his personal tower four years prior and faking his death to the public so that he could slowly recover in secret and plan his revenge against Terry, who had defeated him in the first "King of Fighters" tournament. Upon hearing and learning of this, Terry and his friends set out to confirm on whether or not Geese is still alive, not knowing that their personal investigation is only a small part of a bigger threat which involves a dangerous Japanese criminal, two young Chinese orphans, and three sacred scrolls that could easily endanger South Town and the rest of the world.
Game review
No review yet. We are working very hard to write one for you.
You can help us by writing some cool user review for this game.
User reviews
There are no reviews yet, be the first to review this game!