The Clue!
DOS game, 1994
Genre:

Year:

Developer:

Publisher:

Perspective:

Theme: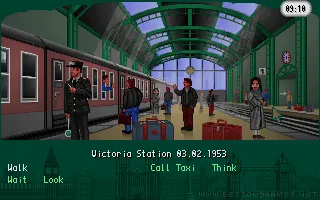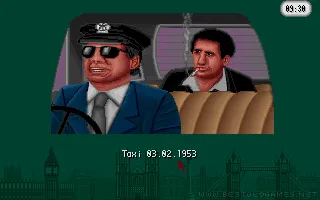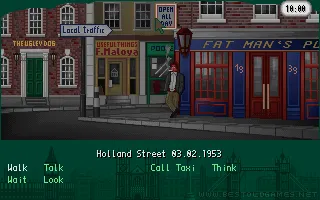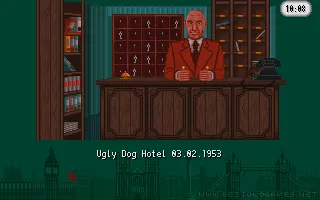 The game The Clue! represents a sort of mix between adventure and strategy with the original idea - the main character here is a criminal Stuvysant Matt, who had just arrived in London. He has just rented a small hotel room and began to plan a robbery of the century. The whole game is controlled by commands that you have at the moment to choose from. So after you move in some way, you simply choose from the available commands then go to the desired location. You do not collect any objects, or perform action (except for interviews), all you need for game you either get, buy or steal. Yes, this game is about stealing and practically nothing else, so you must take what you can and do not let them catch you.
Game review
This game represents a kind of mix between adventure and strategy with an original idea and, moreover, fully in Czech. The whole game is controlled using the commands you have to choose from at the moment. So you move around the city by simply selecting "go" from the menu and then the place. You do not collect any items or perform any actions (except interviews), everything what you need to either get, buy or steal (yes it is, this game is practically nothing more than "pick up what you can and don't catch", which you would also expect when the game is called a thief).

Burglar planning:
1.) Information - you have to take a good look at the terrain to get as much information as possible about the object. However, you must not hang around for too long, otherwise you will be suspicious.
2.) Find out the situation inside - it is not worth planning the event, when you find out that you lack the necessary equipment. So it is best to buy equipment in the store and especially hire people who can handle tools (otherwise, working with tools also takes some time , so this figure must also be taken into account).
3.) Hiring people - most people can be found in the evening in pubs, but sometimes on the street or in shops. The selection is really large and over time will continue to grow. Each character is skilled in something different, so you will definitely not use only Of course, the more skilled the character, the more percent of the profit will be. The characters may also have some records with the police (including you), in which case it's a good idea to wait a few days or just pick someone else, otherwise they would it could also happen that someone will flood you nicely under the weight of the evidence.
4.) Plan - the game switches to some 3rd person view from above, seeing the street, the interior of the house, your characters and guards (if they are guarding the object). You have to penetrate the object, take everything you can, return to the car and It sounds simple, but you must not make too much noise (how much you can make you know from the observation), the action must not take you too long-passing patrol and they could notice something, you also have to watch out for the alarm you have to first Probably the biggest obstacle is represented by guards, they have different intelligence, ie: if the patrol is totally stupid, they may not notice damaged doors and take larger breaks, on the contrary, the trained patrol will miss almost nothing.
Planning is very difficult, you rarely manage to break a (successful) on the first try, when you catch the police, of course, you go behind bars and the game ends, so in this game you will load about more than you would like.
5.) Sale of loot - there are several shops where you will be able to monetize your loot. In each shop, however, they buy something different and at different prices, which can change over time.
Well, this is how you proceed through the whole game. You can choose any objects, and after a few successful break-ins, you will get a task that you must complete for the next step. 
Reviewed by

Anonym – 1. april 2014
User reviews
There are no reviews yet, be the first to review this game!