Aces over Europe
DOS game, 1993
Genre:

Year:

Developer:

Publisher:

Perspective:

Theme: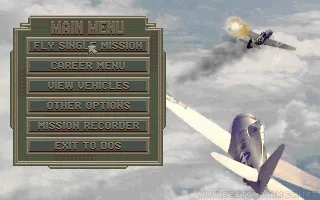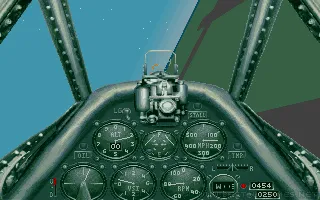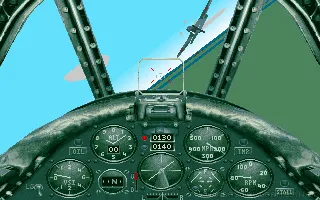 Continuation of the famous flight simulator Aces of the Pacific, this time focusing on Europe. The game got revamped graphics, more sophisticated models of aircrafts. The game is set in the times of World War II. You can fly with aircrafts from England, United States or Germany. Your goal is simple: become a top ace pilot.
Game review
Aces Over Europe is a simulator of air battles over Western Europe during World War II. It comes from Dynamix, which created several simulators in the 1990s, including Red Baron and Aces Of the Pacific. (AoE is more or less analogous to AoP, but is newer, with better graphics and artificial intelligence.) If you know AoP, you will appreciate that the menu system and aircraft controls are the same, so just think what and not how. However, AoE is generally more difficult.
You can fly individual missions of your choice, which is best for starters, or complete the rest of the war in the German, British or American Air Force. Each party mostly a certain type of tasks. You enter the story a month before the invasion of Normandy. The war is divided into several campaigns, which roughly correspond to a certain period of development of the military situation. At the beginning of each campaign, you can always choose the unit you want to serve. This is a very important choice because each unit uses a different type of aircraft and performs different tasks. Then it will depend only on you.
There are enough types of aircraft. Unlike AoP, you can only fly fighter jets, although some of the tasks will be attacks on land or sea targets. Of course, each aircraft has different characteristics, speed, climbability, dexterity, armament and so on. And some of these characteristics change significantly with flight altitude. You may be faster on the ground, but the other one may be faster at 15,000 feet ...
There are training missions to touch your plane. It is absolutely necessary to be able to take advantage of your aircraft and the weaknesses of enemy types, otherwise you will not survive even a week. Well, you try again and in time you'll find out what's going on. You will figure out how not to give the enemy the opportunity to attack and how to look for such an opportunity yourself, how to avoid anti-aircraft fire, how ...
When you destroy a couple of bridges, shoot a couple of locomotives, bomb a couple of airports or fortifications and shoot down a couple of enemy planes, honors and promotions begin to come, and with that one big advantage - as a commander, you can decide what and how.
So, the ammunition is replenished, the tanks are full ... let's go. I wish you how many take-offs, so many happy landings. 
Reviewed by

Anonym – 1. april 2014
User reviews
There are no reviews yet, be the first to review this game!