The Need for Speed
DOS game, 1995
Genre:

Year:

Developer:

Publisher:

Perspective:

Theme: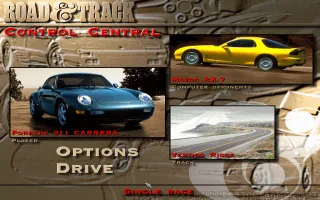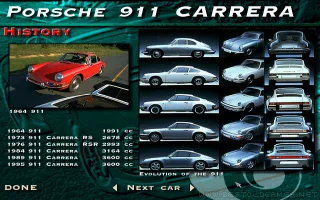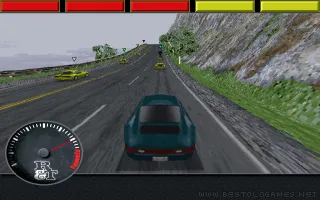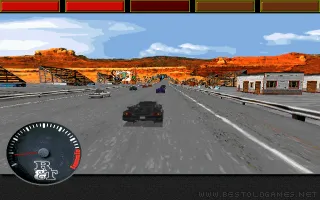 From time to time, there is a game, that becomes a legend. Legend, others try to imitate and the game that introduced us to the game series that is played not by one, but for several generations of gamers. I believe we don't have to introduce the game, which in 1995 began one of the most successful game series: The Need for Speed​​! At the time, this game had the best graphics and excellent gameplay. NFS series has never attempted to be a realistic racing simulation, but it has always been focused on the fun side of the game, mainly racing fast cars with an arcade twist. In the game you can ride few of favorite racing cars such as Porsche, Ferrari, Lamborghini, Dodge Viper, Corvette, Mazda RX7, Toyota Supra Turbo and Acura NSX.
Game review
It will be sixteen years since Electronics Arts released its first installment in the Need for Speed ​​series. Who would have expected that countless other parts would follow and that Need for Speed ​​would be a world-famous brand in sixteen years?
The first thing I noticed after turning on this game is its great and clear menu. It works like this. On the left side you have a picture of your car with which you will race, on the right side you can choose a car for your opponent and below it there is a selection of the race track. The rest of the settings are in Options. Everything is clear and clear.
Another great feature is that when you click on the image of your car, a menu with detailed information will appear. Here you can learn the technical parameters, history, or just look at the pictures and video about the car. In my opinion, this is a great diversion for sports car enthusiasts.
And now something about the possibilities of racing. You have a choice of eight cars and six tracks. Three of them are circuit, but the other three tracks are still divided into three segments, so you have a total of about twelve tracks on which you will race.
You can compete in four disciplines. These are single race, time trial, head to head and tournament. Each discipline then takes place on a whole track. And because most tracks are divided into three segments, you will have three races before you find out who the winner is. It is different on the tracks where the circuits run. Here the length of each discipline lasts according to the number of selected circuits.
In a single race, you choose the car, the track and the opponent's vehicle. Then the race for victory against your eight computer-controlled opponents awaits you.
In time trial you can choose any car and track. Then you only race against the timekeeper.
But the most interesting thing for me was the discipline of head to head. In this mode you choose only one opponent with whom you will compete for victory. An interesting revival in this mode is the involvement of the police, which occurs on most lines. If you catch the attention of a police officer, he will start chasing you, and if he catches you, you will receive a warning. But if he catches you a second time, you are disqualified from the race. I would like to mention that police chases are fun, but the police could have been more aggressive, because passing the men of the law in this game is not a big deal.
The last discipline offered is the tournament. In this mode, you can select a track, but you only have a limited selection of cars. On each track, you can race only in selected cars that fall into a certain speed and performance category. Of course, the same goes for the cars of the opponents and so it is a very balanced competition.
And now something for the gameplay itself. Need for Speed ​​is more of an arcade, so don't look for a very sophisticated and realistic driving model here. I would also like to mention that you have a choice of three different views of the car. You can place the camera either directly behind the wheel and see the interior of the car, or you can watch your car in its entirety. Controlling the car is then very simple. Use the forward and backward arrows to either add or subtract throttle, then use the A and Z keys to shift up or down. The C key is used to change the view of the camera and the H key to turn the trumpet.
One of the most important things the creators managed to bring is the feeling of speed when racing. When you run down the highway in the Alps and pass an oncoming car at a speed of 200 kilometers, you really feel like you are driving "fast".
I would also like to evaluate the audiovisual side of the game. I would say that among the abandonware, Need for Speed ​​belongs to the top. The environment gives a pleasant impression and the same can be said about car models. The sound was also successful, so I have nothing to complain about in Need in Speed ​​in this respect. The collision system is also sophisticated. When you manage to run into an obstacle at full speed, you can watch your car turn in deadly spirals and somersaults. It's a great spectacle.
Finally, I would like to mention that Need for Speed ​​definitely deserves your attention. It's a great game, but it has a few flaws. The biggest mistake, in my opinion, is the absence of any career. Without it, the motivation to conquer other races disappears, and that is a great pity for such a great game. 
Reviewed by

Anonym – 1. april 2014
Comments
Below are the most recent comments. Discuss this game in our forum to see all of them.
Problem:you need to have a 16-bit computer/laptop which almost nobody haves.I have a 64-bit and it doesnt wanna open.Admin,help please.

This is a DOS game, so you have to use DOS emulator to run it, try DOSBox.

Or you can try to run NFS online, but playing experience can be poor based on your computer, or browser. Better is to run the game locally.
User reviews
There are no reviews yet, be the first to review this game!