Leaping Lizard Software
Inc.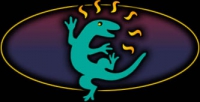 From company's now defunct website:
Founded in 1994, Leaping Lizard Software works to constantly push the envelope of real-time 3D technology for the videogame market. Along with their extensive experience in the computer game industry, our software engineers, artists, and designers are united by their love of games and desire to continuously create even more involving game experiences. 
The Leaping Lizard team is backed by a large base of our own state-of-the-art game technology. Our in-house development credits include real-time 3D rendering software, an advanced physics system, state-of-the-art video compression and playback, beyond state-of-the-art image processing tools, and a library of world designing tools, and scripting and AI routines. When it comes to development tools, we either have it already or we'll create it. 
Designed to take casino video gambling into the next millennium, Leaping Lizard's project GameMagic was the first 3D-accelerated CD-Rom and PC-based casino product. Developed for Bally Gaming and released in the spring of 1998, Game Magic revolutionized the gaming machine world by incorporating stunning real-time 3D animation and traditional casino games. 
Continuing the theme of making the old brand new again, our remake of Centipede for Hasbro Interactive brought the 80's arcade classic into the present. All the bug-blasting action and adventure of the original is back for both kids and kids-at-heart...this time in 3D!
Company's most popular games on BestOldGames.net
SimFarm (1993)

— Developer