Alley Cat
DOS game, 1984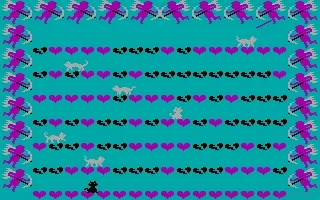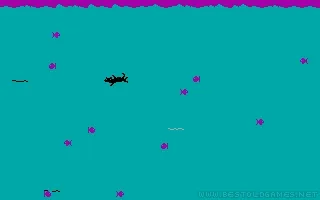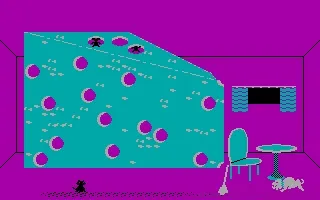 Alley Cat is one of those games you will not forget (here specifically because of the catchy midi music). The game consists of several minigames, which you play along the way. You play as a small black cat (or rather tomcat), which is very eager to get to his beloved cat from the apartment complex. You need help him and jump over the top.
Game review
Miaau .... Choose the level of the cat as you feel and you can start hunting for mice ...
You start on the street (as every rich man says, you won't miss your career) and sometimes a dog runs around you (or rather a white spot and when he catches you the PC speaker sounds and the spot changes to black - you will understand that it's wrong) so watch out for him. The escape is a jump to the garbage cans, but sometimes another cat peeks out - there is one in each garbage can (it reminds me of a joke about children ...). When it peeks out, it lifts the lid and you fall. On the dog. So the recommendation is clear, jump even higher, grab some of the hanging laundry and catch, mice ... the surprise for me was when I climbed into the apartment and there was a huge Emmental or something. in it, of course, mice. However, there was no dog but a flying broom - without the owner it was obviously quite aggressive. After catching the mouse, it is played outside ...
Rating? for 1984 it could be quite good, today just like a break. If you have ever played this game in your youth, of course also in old age, there is no discrimination, so even a little nostalgia will not hurt ... 
Reviewed by

Anonym – 1. april 2014
User reviews
There are no reviews yet, be the first to review this game!