007: Licence to Kill
DOS hra, 1989
Žánr:

Rok:

Výrobce:

Distributor:

Perspektíva:

Téma: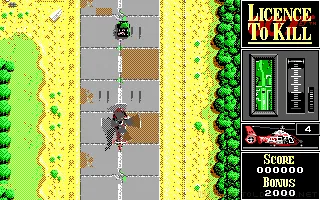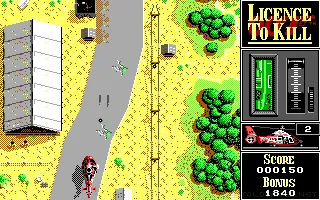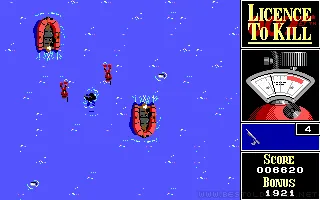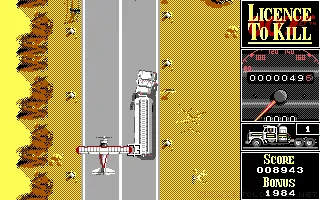 Bond, James Bond. Tajný agent jejího veličenstva, kterého zná opravdu každý (můžeme ho tedy ještě volat tajným agentem, když není až tak tajný?). Bylo o něm napsáno několik knih, desítky filmů a neposlední řadě i vytvořených množství počítačových her, mezi jinými i 007: Licence to Kill. Vžijete se tedy do role 007, máte licenci na zabíjení a tak se vydáváte na pronásledování nepřátel. Vaše cesta začíná ve vrtulníku, kdy pronásledujete džíp plný kriminálníků. Při pronásledování se musíte svým vrtulníkem vyhýbat budovám, a ničit nepřátele, kteří po Vás střílejí. Až se Vám to podaří, dostanete se do druhého levelu, kde už však musíte pokračovat po vlastních. Hra láká především na svůj název a čerpá z popularity Jamese Bonda, pokud by však hra nebyla pojmenována po nejslavnějším tajném agentovi, těžko byste si ji všimli, protože se jedná o zcela slabý průměr.
Recenze hry
Není zde zatím žádná recenze! Pracujeme velmi tvrdě na tom, abychom přidali recenze ke každé hře. Můžete nám pomoci přidáním uživatelské recenze k této hře.
Uživatelské recenze
Nejsou zde zatím žádné recenze, buď první, kdo přidá recenzi na tuto hru!
Prosím, zaregistrujte se nebo se přihlašte na přidání recenze!
Extra
Žádné extra informace. Zatím!